Ruble Gains Third Day as Russia Tells Exporters to Sell Dollars
Ksenia Galouchko and Vladimir Kuznetsov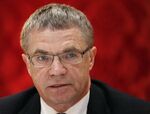 The ruble headed for a third day of gains after the Russian government called on some companies to sell foreign exchange received from exports.
The ruble strengthened as much as 5.5 percent against the dollar before paring its advance to 0.7 percent at 55.40 per dollar by 6:54 p.m. in Moscow. The government has ordered five state-controlled exporters, including OAO Gazprom, to reduce their foreign-currency holdings by March 1 to levels no higher than on Oct. 1, it said on its website.
Russia's currency has rebounded since plunging as much as 20 percent on Dec. 16 to a record 80.1 rubles per dollar, as the central bank last week raised its key interest rate by the most since 1998. It remains 41 percent lower this year. The dollar-denominated RTS Index of shares fell 2 percent while the Micex Index dropped 2.7 percent. The yield on local currency bonds due August 2023 rose 32 basis points to 13.44 percent.
"The Kremlin's call on exporters to buy rubles was apparently very well heard and accepted," Slava Smolyaninov, chief strategist at UralSib Financial Corp. in Moscow, said by e-mail.
The rate banks charge each other for one-day funds fell for a third day, dropping to 23.5 percent after touching the highest in at least eight years on Dec. 18. Hedge funds and large speculators were net long the ruble in the week ended Dec. 16, the first time since July, according to data from the Washington-based Commodity Futures Trading Commission.
Gains Overdone
Still, the currency's strengthening may be overdone after the price of Brent crude in ruble terms declined to the lowest since June 2013, according to ING Groep NV analyst Dmitry Polevoy. Crude fell to 3,329 rubles per barrel from an average of 3,753 in the last 12 months, data compiled by Bloomberg show.
"Even this simplified analysis shows that the ruble's upside is probably exhausted, unless oil recovers further," Polevoy said in an e-mailed note.
The ruble fell as much as 20 percent on Dec. 15 after the central bank's rate increase from 10.5 percent initially failed to stabilize the currency market. It has since strengthened more than 18 percent as investor sentiment improved.
Russia's foreign-exchange woes are largely tied to exporters' actions, Prime Minister Dmitry Medvedev told government officials on Dec. 17, according to Interfax. "Extremely tough" regulations won't be imposed on the currency market, he also said.
Gains Trimmed
Government directors of the five Russian exporters, which also include OAO Alrosa, OAO Zarubezhneft and OAO Kristall, should hold board meetings and vote for the foreign-exchange proposals, according to the document. They are required to report their currency holdings to the central bank on a weekly basis.
Gazprom needs rubles for investments and understands that these actions help stabilize the exchange rate, Deputy Chief Executive Officer Alexander Medvedev told reporters in Moscow yesterday.
The ruble may have trimmed its advance as the impact of export sales faded, Denis Korshilov, head of fixed income, currencies and commodities trading at ZAO Citibank in Moscow, said in e-mailed comments.
"Export sales are over, while importers have become more active closer to the end of the year," Korshilov said. "Importers have lots of FX revenue from the pre-New Year sales, especially this year. So they're buying the foreign currency."
Before it's here, it's on the Bloomberg Terminal.
LEARN MORE