Doomed UN Bid Shows Abbas's Struggle as Hamas Gains Support
Amy Teibel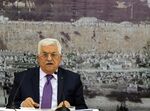 Palestinian President Mahmoud Abbas's dwindling domestic support may be the real reason behind his latest venture abroad.
The 79-year-old leader is pressing ahead with a push at the United Nations to set an end-2017 deadline for Palestinian statehood even as the U.S. threatens to block the measure. At home, polls show him trailing the Hamas chief in the Gaza Strip. They also indicate Palestinians think Hamas's armed militancy is more effective than the peace talks he's held.
Squeezed between Hamas, which wrested control of Gaza from him in 2007, and an Israeli government driving a harder bargain than its predecessors, Abbas is no closer to bringing his people a state in the West Bank, east Jerusalem and Gaza than he was when he took office a decade ago. While he can point to recent endorsements of Palestinian statehood by lawmakers in seven European nations, such non-binding measures have little effect on Palestinian life under Israeli occupation.
Failing to deliver on his promise to hold elections and without a clear successor, Abbas is going to the UN to gain "more time, essentially to stay in power," said Ghanem Nuseibeh, founder of Cornerstone Global Associates, which advises clients on risk in the Middle East.
The move is only "creating essentially noise. There's a serious lack of strategy on the part of the PA as far as the peace process is concerned. They don't have a clear end game," he said.
No Support
State Department spokeswoman Jen Psaki said Dec. 17 that the U.S. wouldn't support "any action that would prejudge the outcome of the negotiations." U.S. objections may be a moot point. Hanna Amira, a senior Palestinian official, said last week that Abbas hasn't mustered enough support in the council for the proposal. No requests were made to schedule a vote.
In Algeria yesterday, Abbas said that if the resolution fails, "we will stop dealing with the Israeli government and demand it assume all responsibilities an occupying power bears," the official Palestinian news agency Wafa reported.
Palestinian officials turned to the UN after the last round of U.S.-sponsored peace talks collapsed in April, and Israel and Gaza-based militants warred for the third time since 2008.
'Tremendous' Pressure
Abbas lost control over Gaza two years into his reign as head of the limited self-rule Palestinian Authority after succeeding Yasser Arafat, the late icon of the Palestinian independence push. Soft-spoken and attired in a business suit, he cuts a different figure from his predecessor, known for his trademark fatigues, Arab headdress and impassioned speech, and reviled as a terrorist in Israel.
Known as Abu Mazen, Abbas has resisted domestic pressure to abandon diplomacy even as Israel kept building in areas the Palestinians claim for a state. He has rejected alternatives that include an armed struggle and a binational state where Jews would eventually become a minority.
Abbas Zaki, a member of the Palestine Liberation Organization's decision-making central committee, praised Abbas for his tenacity and his commitment to non-violence.
"The pressure that Abu Mazen is facing is tremendous," he said. "He chose the path of peace, and employs savvy politics and diplomacy. He made it clear to the Americans and the Israelis he does not want violence."
'No New Ideas'
The resolution the Palestinians are pushing for at the Security Council sets out a one-year deadline to reach a peace accord, and gives Israel until the end of 2017 to quit the West Bank and east Jerusalem. Israel evacuated Gaza in 2005, while retaining control of access to its borders, along with Egypt.
Khalil Shaheen, research director at the Palestinian Center for Policy Research and Strategic Studies in Ramallah, said Abbas is rehashing the strategy he used in 2012 when he asked the UN General Assembly to recognize a Palestinian state.
"We are in the same square with no new ideas of development," Shaheen said. Abbas "is incapable of confronting Israel politically or on the ground," he said. "Palestinians should work to change the Palestinian leadership."
Followers of a rival, Mohammed Dahlan, rallied in Hamas-ruled Gaza last week demanding that Abbas step down.
While more than 2,000 Palestinians and 70 Israelis died in 50 days of fighting between Israel and Hamas in July and August, polls show the death toll didn't sour Palestinians on the militant movement as hopes for a two-state solution fade.
Haniyeh Leads
The latest, released Dec. 9 by Shaheen's center, showed Gaza's Hamas leader Ismail Haniyeh beating Abbas in elections by a margin of 53 percent to 42 percent. Hamas is classified as a terrorist group by Israel, the U.S. and the European Union.
Forty-two percent said armed confrontation with Israel is most effective, while 29 percent favored negotiations. The poll of 1,270 people had a 3-percentage-point margin of error.
Jawad Anani, a Jordanian senator, said Abbas remains relevant to prevent "radicals" from taking control.
"What are the alternatives?" he said. "I see Hamas as an alternative, and probably worse than Hamas, more radical than Hamas. In that sense, Abu Mazen is very much relevant." Living under Israeli occupation, the Palestinians' options are "very limited," he said.
The UN campaign comes as Israel prepares for early elections in March. Polls indicate Israeli Prime Minister Benjamin Netanyahu can't count on a fourth term.
Palestinian officials blame Netanyahu for the failure of diplomacy. "Netanyahu destroyed the PA," Saeb Erekat, who has led the Palestinian negotiating team for two decades, said at a recent briefing in Ramallah.
International Organizations
Israel, which offered the Palestinians peace plans in 2000 and 2008, says they are to blame. Netanyahu has accused Abbas of inciting violence against Israelis and abandoning peace talks by reconciling with Hamas.
If the UN resolution stalls, the Palestinians will press their statehood campaign by joining international organizations, Erekat said. These include the International Criminal Court, where they could press war crimes charges against Israel.
Netanyahu said an appeal to the court could draw retaliatory measures. Erekat acknowledged skepticism about the repeated Palestinian threats to apply to the court. "We will surprise you," he said.
He rejected the notion that the Palestinian Authority has become irrelevant. "People are giving us a chance to see whether we are serious," he said. "The status quo isn't sustainable."
Before it's here, it's on the Bloomberg Terminal.
LEARN MORE