Dodge's Muscle Cars Push Aside the Minivan
Chrysler's cheaper little brother is picking up speed
By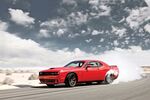 The Dodge Charger SRT Hellcat is a hot rodder's dream: With 707 horsepower it has a top speed of 204 mph and covers a quarter-mile in about 11 seconds. Parent Fiat Chrysler bills the Hellcat as the fastest production sedan on earth.
Derided not so long ago for selling nondescript vans and sedans, Dodge is remaking itself as a muscle-car brand that appeals to guys in their 20s and 30s. Chief Executive Officer Sergio Marchionne has called Dodge "the best-kept secret in the house. … There is a unique place in the American mind for Dodge. And we need to satisfy that need."
Traditionally, Dodge cars were priced to sell, often to rental-car companies and drivers with weak credit. "Dodge was the cheaper little brother of Chrysler," says David Kelleher, a Dodge Chrysler dealer in Glen Mills, Pa. "It was always for the working-class person, and Chrysler was for the more affluent."
When Fiat took control of Chrysler Group (which now calls itself Fiat Chrysler Automobiles US) in 2009, Dodge wasn't admired for much except its reliable Ram trucks. Marchionne split off Ram into its own brand that same year, leaving a disconnected lineup that included the Avenger family sedan and the Grand Caravan minivan.
The company decided to reimagine the Charger and Challenger, cars originally created by Dodge in the '60s to take on General Motors' Chevrolet Camaro and Ford Motor's Mustang. This year new versions appeared—the Charger in the fall and the Challenger over the summer—with more power, cockpit technology such as navigation systems, and designs that mirror the originals.
The Hellcat Charger, at $64,000 and change, compared with about $28,000 for the base Charger model, isn't expected to sell in large numbers. It's an aspirational hot rod intended to broadcast Dodge's new street cred. The car comes with two keys: A red one provides access to the engine's full horsepower; a black one limits the engine's output to 500 horsepower—a safeguard for teenage drivers and parking attendants.
Challenger sales jumped 50 percent last month; and this year the Durango sport utility rose more than the midsize SUV segment. Dodge says half its customers belong to Generations X and Y.
Focusing on performance is risky, says Michelle Krebs, a senior analyst at AutoTrader.com. "If prices go up or the economy tanks, discretionary purchases such as performance cars are the first to go," she says. And if and when gas prices rise again, the new Chargers and Challengers could end up in used-car lots. The Charger Hellcat gets 22 mpg, compared with 25 mpg for the V-8 Mustang GT Fastback.
Dodge says it will sell 600,000 vehicles annually by 2018—even though it's stopped making the Avenger sedan and will discontinue the Grand Caravan in 2016. The two models generated almost 37 percent of Dodge's sales in 2013.
The company has resurrected John and Horace Dodge, who built their first car in 1914. A print and television ad campaign depicts them as fun-loving hot rodders. "The story of the Dodge brothers gives life to the brand," says Tim Kuniskis, president and CEO of the Dodge brand. "It makes the brand something real. It's part of the history of America. It's not just five letters."