California Raids the Nation's Henhouses
A state law on cage sizes for chickens stirs up the pork industry
By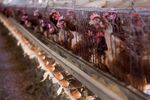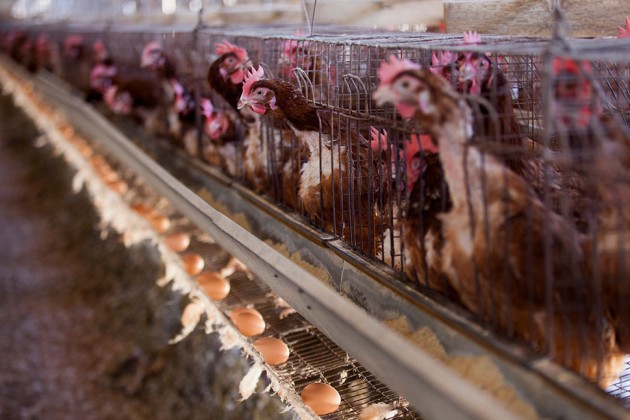 Starting on Jan. 1, every egg sold in California will have to come from hens that have enough space to lie down, stand up, spread their wings, and move freely. The state's Department of Food and Agriculture says that means each bird needs at least 116 square inches of living space in its coop—a 73 percent increase from the industry standard of 67 square inches per bird , or less than a sheet of letter paper.
California is the fifth-biggest egg producer in the U.S., but it's No. 1 in egg consumption. Almost a third of the eggs sold there come from out-of-state farms, and chicken farmers across the country are rushing to modify cages or go cage-free so they can continue selling in California. Jim Dean, the chief executive officer of Iowa's Centrum Valley Farms, says he's culled the flock at one facility to 800,000 birds from 1.5 million to relieve crowding. In June, California inspectors certified his business to continue selling in the state. "You'll see new construction happen to be California-compliant," Dean says.
That's the effect animal-rights groups were hoping for when they put Proposition 2 on the state ballot in 2008. The measure, which passed with 64 percent of the vote, applied only to in-state egg producers, but a subsequent state law expanded it to cover eggs produced elsewhere. "It's hard for an Iowa producer or an Indiana producer to say, 'Well, I want to sell my eggs in California, but I don't want to play by California rules,' " says Wayne Pacelle, head of the Humane Society of the U.S., a leading supporter of the new regulation.
California's ability to set a de facto national standard is a nightmare for industrial agriculture, which has been fighting off state challenges to existing practices. In May, Vermont became the first state to require labeling of food products containing genetically modified ingredients. Monsanto and Dow Chemical spent millions in the midterm elections to defeat a pair of ballot measures that would have created the same requirement in Colorado and Oregon.
In 2012, the United Egg Producers agreed to help the Humane Society lobby Congress for legislation that would have increased the minimum space requirements for hens nationally but given egg farmers more time to switch to larger cages. The effort failed in part because other farm groups, including the pork producers and the American Farm Bureau Federation, lobbied heavily against it, fearing that any such deal would create a precedent for imposing similar changes in their industries. The pork industry has supported a suit filed in a California federal court by six states, including Iowa, to block the new regulations. It says the law violates the Commerce Clause of the U.S. Constitution, which gives Congress the power to regulate interstate trade. A judge threw out the challenge in October, and an appeal is scheduled to be heard in February. "If they do it for eggs," says Dave Warner, a spokesman for the National Pork Producers Council in Washington, "why can't they do it for pork?"
Yet some farmers see opportunity. In early December, wholesale egg prices reached a record $2.27 a dozen, a 34 percent increase from last year's prices, and California's change is expected to raise prices even further as farmers reduce their flocks to give birds more space. Similar restrictions on henhouses passed by the European Union 15 years ago led to a temporary price spike as farms remodeled their egg production facilities. "I think we're going to have a shortage starting Jan. 1, and it's going to get worse until production meets the needs of demand," says Scott Ramsdell, who owns Dakota Layers in Flandreau, S.D. He's already made his barns, which house 1.3 million hens, compliant with the new law. "We've been watching this come on for the last five years, and most people have been in denial," he says.
Grocers in California have been calling Paul Sauder, the third-generation owner of Sauder's Quality Eggs, a distributor in Lancaster County, Pa., who trucks eggs to New York, Philadelphia, and Washington. "It wouldn't normally make any economic sense to transport eggs to California," he says. Now he's planning to make deliveries there, at least as long as prices stay high. In the past few months, he's expanded his roster of farmers supplying cage-free eggs. "If that's the egg the consumer wants us to produce," he says, "we'll produce it."
— With assistance by Lydia Mulvany
BOTTOM LINE -
The bottom line: A California law requiring bigger chicken coops is creating a de facto standard as out-of-state producers fall in line.
Before it's here, it's on the Bloomberg Terminal.
LEARN MORE