Amazon Sorts Itself Out for the Holidays
New facilities are supposed to prevent delivery disappointments
By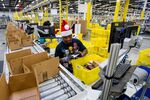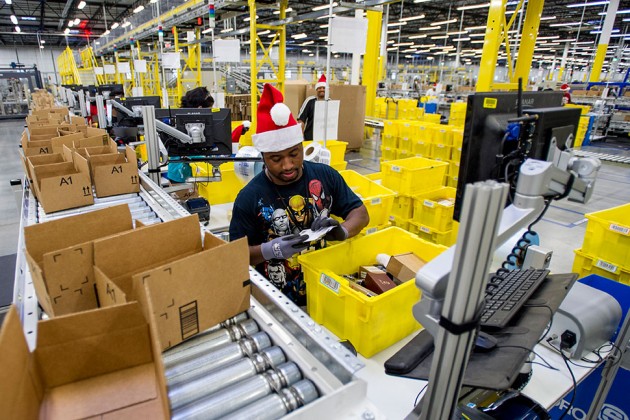 Amazon.com did not want to see the ghost of Christmas past. Delays during the 2013 holiday shopping season forced the company to refund shipping charges and to issue gift cards to disappointed customers. To avoid a repeat, Amazon added seven more sorting centers—for a total of 15—to assert more control over delivery.
Sorting centers such as the 500,000-square-foot facility that opened in Kenosha, Wis., in October handle orders that have already been packed in boxes and labeled at the online retailer's 50 U.S. fulfillment centers. The boxes are sent to the site to be organized by ZIP code and stacked six feet high on pallets, before getting trucked to nearby post offices for the final leg of deliveries.
The U.S. Postal Service has a contract with Amazon that includes Sunday deliveries, which help spread the orders over a greater number of days and prevent bottlenecks from building in the system over weekends.
By relying more on the post office, Amazon is cutting back on the amount of business it gives other shippers, primarily United Parcel Service and FedEx. Amazon declined to specify the portion of its delivery business affected by the changes. Spokesmen for FedEx and UPS wouldn't comment on Amazon's decision.
The new sorting centers help Amazon handle more orders without customers having to make their purchases earlier. They also give Amazon more options for when and how packages are delivered. "If there's one company that understands fulfillment, it's Amazon," says Kevon Hills, director for research at StellaService, which monitors customer service at e-commerce companies. "They probably learned a lot last year. Rather than be more conservative, they will try to solve the problem."
Holiday shoppers in the U.S. were expected to place even more orders online in 2014. The pressure for timely delivery was high this holiday season because the period between Thanksgiving and Christmas was only one day longer than 2013's 26-day shopping season, the shortest possible. UPS had forecast that it would deliver 585 million packages in December, up 11 percent from the same month in 2013.
Amazon said it would hire 80,000 seasonal workers in 2014, up from 70,000 the previous year. Thousands of the additional hires are staffing the new sorting centers like the one in Kenosha. Other sorting locations include Baltimore, Davenport, Fla., Nashville, and Pittsburgh, according to Amazon spokeswoman Nina Lindsey.
Just off Interstate 94 between Chicago and Milwaukee, Kenosha offers Amazon quick access to big cities around the Midwest, as well as a workforce of about 1 million people within a 20-minute drive. The city, which has a population of almost 100,000, has been slowly remaking itself into a distribution hub since the late 1980s, when Chrysler shut down a plant there. In early 2013, when Amazon and the owner of the property dangled the promise of more than 1,000 jobs and an annual payroll of $50 million, the city responded with $25 million in grants to help win the investment. Says Kenosha Mayor Keith Bosman: "If we're good enough for Amazon, a lot of other companies should be interested in Kenosha."
By next year, the Kenosha facility will also include a 1 million-sq.-ft. fulfillment center packed with inventory. A 575-foot-long elevated conveyor belt will carry boxes from the fulfillment center to the sorting center, eliminating the costly and time-consuming process of loading and unloading trucks between steps. Amazon wouldn't provide details on how much it's invested in Kenosha, but city officials estimate the company's total investment comes to $300 million.
Big outlays like this are biting into profits. Amazon posted a net loss of $437 million in the third quarter, more than 10 times larger than the year before. Sucharita Mulpuru, an analyst at Forrester Research in Cambridge, Mass., says Amazon has no choice but to invest in efficiency if it expects to be profitable: "They have to do anything they can to cut costs," she says.
Amazon's arrival spells opportunity for residents of Kenosha, where unemployment was 6.2 percent in October, compared with 5.4 percent statewide. The company interviewed almost 2,000 people at the Kenosha County Job Center, a city agency that helps screen workers. "It's one of the largest online retailers," says Courtney Pierce, a 33-year-old resident who applied for a job at the sorting center. "This is really unique for Kenosha."
Before it's here, it's on the Bloomberg Terminal.
LEARN MORE