Wooing Israel With 26-Cent Chicken And a Decade-Old Nokia
David Wainer and Yaacov Benmeleh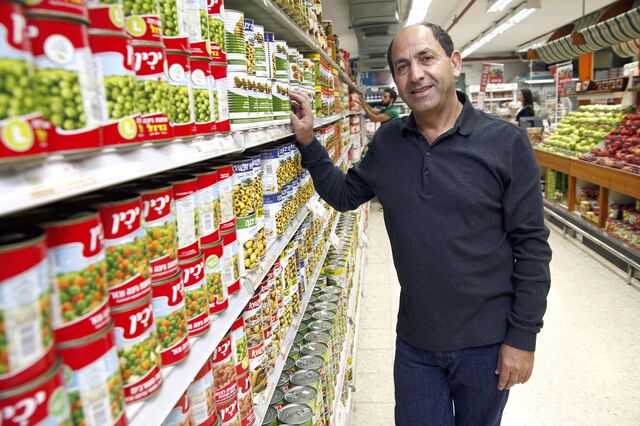 Four decades ago, Rami Levy arrived every weekday morning at dawn to hawk produce at Jerusalem's open-air market. The work wasn't lucrative, but as a school dropout from a poor family, he couldn't complain.
Today, Levy still rises before dawn to sell food, and continues to do it without complaint. Now, though, he's head of a company with 32 supermarkets across Israel and his net worth tops $500 million. This year, the Rami Levy chain became Israel's top supermarket operator by market value even as sales remain less than a third of those of leader Shufersal Ltd.
"You know the difference between me and every other CEO? I cleaned the floors. I stocked the shelves," Levy said between bites of a cheese sandwich at his headquarters, a maze of shared working spaces and stacks of paperwork atop his original supermarket, in a Jerusalem industrial zone. "I started from the bottom and I know everything about my business."
Levy has built his fortune by undercutting competitors with promotional campaigns such as what the media dubbed the "Chicken War," which in 2008 brought the price of a bird below 1 shekel ($0.26) per kilo. That approach, enabled by high-volume stores the size of warehouses and a lean layer of middle managers, helped him surpass established chains.
By relentlessly pitching himself as a grocer whose sole goal is to bring inexpensive goods to the masses -- think Sam Walton or Germany's Albrecht brothers -- Levy was able to steal customers from bigger competitors. His annual sales nearly doubled over the last four years, to 3.2 billion shekels in 2013. Over the same period, Tel Aviv-traded Rami Levy Chain Stores Hashikma Marketing 2006 Ltd. more than doubled.
Now, as growth slows and competition heats up, Levy's earnings have tumbled. Analysts surveyed by Bloomberg predict sales will grow 11 percent this year, versus 25 percent in 2012. Profit for the quarter ended in September fell 34 percent from a year earlier.
In a war-battered economy, lower grocery bills and higher wages have become a top issue in campaigning for elections in March. Former Finance Minister Yair Lapid has called for reductions in what he says are "unbearable" food prices. In January a new law aimed at fostering competition in the grocery market will require chains to post their prices online.
That could spell trouble for Levy, whose gross margins are among industry's lowest -- about 20 percent, versus Shufersal's 22 percent -- so he has little room to cut prices. And higher wages will raise his costs; more than 20 percent of his staff earn Israel's minimum wage of 4,300 shekels per month, which the government aims to raise to 5,000 shekels by 2017.
Shared Bathroom
"The company is getting hit on all sides," said Terence Klingman, head of research at Psagot Investment House Ltd. in Tel Aviv. "Consumers are spending less. Competitors are defending their market share much more aggressively. It's a war out there."
Levy says that despite his relatively slim profit margin, his low operating costs will help him withstand falling profitability better than rivals. And as competitors scale back growth plans, his company has bought two locations from other chains.
"We think things will get worse for the sector before they get better," said Michael Klahr, an analyst at Citigroup Inc. who has a buy rating on the stock. Stronger operators should be "able to pick up stores to fast-forward growth plans."
Investors aren't so sure. Rami Levy shares have tumbled 22 percent this year to 148.60 shekels at 1:37 p.m. in Tel Aviv, though they've performed better than Shufersal and Alon Blue Square Israel Ltd., the No. 2 chain by sales.
Levy, 59, has structured his company more like a tribe than a Tel-Aviv 100 corporation. At the top sits Levy, as chief executive officer and 50 percent owner (the other half is traded, with Boston-based Fidelity Investments and a Michael Dell fund each holding stakes of roughly 10 percent). Levy has no PR agent and answers journalists' calls directly. His wife, Adina, acts as treasurer, and his daughter is head of marketing. Top managers are often old friends, whom he directs from his decade-old red Nokia handset.
"What do I need a smartphone for?" he said, waving his arm dismissively. "My work is phone calls and text messages. If I had an iPhone I would always be on Whatsapp Shmatsapp. I have work to do."
Levy was born in 1955 to an Iraqi Jewish mother and an Israeli father in Nachlaot, a Jerusalem neighborhood of narrow, winding lanes flanked by tiny synagogues and courtyard buildings. Home was a one-room apartment, with a bathroom and kitchen shared by other tenants.
Many of his neighbors were Mizrahi, or Jews from the Middle East and North Africa. These weren't the Kibbutznik atheists trying to reshape society with socialist ideals imported from Europe. They were the latest arrivals in a country of immigrants -- destitute, conservative and adherent to religious traditions.
Trash Collector
Levy, who says he's dyslexic, struggled in school. "Back then, they had no idea," he said. "Every test I took, I would know the material in my head but I couldn't express it on paper." When Levy was nine, his teacher read out the names of students who had passed to fifth grade. He wasn't on the list.
"I'll never forget being singled out in the classroom," Levy said. "I worried what my parents would say."
Levy soon dropped out of school, and by age 14 he was pushing a wheelbarrow through the alleys of Jerusalem's Old City, collecting trash as part of a technical education program.
The seeds of the Rami Levy chain were planted one day at Jerusalem's bustling Machane Yehuda market, where everything from fish to underwear to ancient Jewish texts are for sale. His mother tried to buy canned tomatoes from a wholesaler, who waved her off, saying he only sold to other vendors and that she could buy what she needed at a shop down the street.
The encounter inspired Levy to try offering consumers prices that rivaled those found at wholesalers. He cleaned up a stall in the market that belonged to his grandfather and began selling canned and dried goods. While Levy says he earned little at first, he gained a reputation as one of the cheapest vendors in the market. As sales grew, within a few months he was able to bypass wholesalers to buy directly from their suppliers -- and start turning a profit, he says.
Walid Julani, a fishmonger adjacent Levy's original stall, remembers there were times when his neighbor was so busy that he would urinate into old water bottles because there was no toilet nearby. "I didn't have a bathroom!" Levy said, with no apology.
He expanded to a larger market stall in the early 1980's, then in 1992 he opened his first supermarket. Levy expects to reach 40 outlets next year, and by the end of 2016 he says he'll have 50 -- still far fewer than Shufersal's 200-plus stores.
Political Ambitions
Levy says he has changed little since his market days. He still keeps long hours, meeting suppliers and investment partners deep into the night, except on Friday evenings, when he closes his stores at sundown (like most competitors) and heads for home to observe the Sabbath.
With Levy's profile on the rise, he's being courted by Israeli politicians. He says he's been approached by two parties, though he declines to say which ones -- and he says he's not interested, at least for now. "In a few years," he said. "It's always a possibility."
The image of the humble grocer that Levy has cultivated has made him a favorite of the Israeli media, who typically feature him as the face of his company when reporting on food issues. That gives Levy a regular platform where he constantly stresses his mantra that low prices boost demand and help businesses prosper.
The new law requiring more price transparency may hurt Levy's business, said Gil Dattner, an equity analyst at Bank Leumi in Tel Aviv. A comparison by Israel's Channel 2 during this year's Passover holidays found that Rami Levy came in below four major competitors, but the difference between the chain and its nearest rival was less than 2 percent.
"Once people have numbers instead of a general perception, they might think Rami Levy is not that cheap," said Dattner, who has an underperform rating on Rami Levy.
As competition intensifies, Levy is looking beyond both food and Israel's internationally recognized borders to find growth. In 2011 he started offering mobile phone subscriptions, and is now seeking to compete with television providers. He has also built three branches in West Bank settlements, prompting Palestinian activists to accuse him of perpetuating Israel's occupation of captured territories.
Store Attack
"Whoever wants to see true coexistence can visit one of my shops," said Levy, who points out that his first employee in the market -- a Palestinian named Ibrahim Abu Aid -- is now head of inventory. "I serve and employ people without regard for their race or religion."
In early December, those views were tested in extremis. A 16-year-old Palestinian walked into a Levy store in the Mishor Adumim settlement outside Jerusalem and stabbed two men perusing the wine selection. The attack made headlines as images of blood splattered on Levy's linoleum floors flashed across television screens.
Levy, who at the time was visiting a planned branch in Kfar Saba outside Tel Aviv, immediately interrupted his meeting and rushed to the site of the attack, where he met with reporters and did his best to soothe the nerves of rattled staffers.
The attack hasn't dulled his interest in doing business wherever he can. When asked whether he is considering international expansion Levy half-jokingly listed the Palestinian city of Ramallah and Amman, Jordan, as possible locations for future branches.
"It's not going to happen today," he said, adopting a more serious tone. "But one day it could."
Before it's here, it's on the Bloomberg Terminal.
LEARN MORE