Iran Says U.S.-Cuba Thaw Proves Sanctions Are Useless
Ladane Nasseri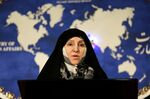 The normalizing of ties between the U.S. and Cuba after decades of estrangement is proof sanctions don't work, Iranian Foreign Ministry spokeswoman Marzieh Afkham said.
"Policies of isolationism and sanctions do not yield results," Afkham was quoted as saying yesterday by the state-run Mehr news agency.
U.S. President Barack Obama and Cuban President Raul Castro's announced a thaw in relations on Dec. 17 after half a century. Some analysts have drawn an analogy with Iran, which the U.S. hasn't had ties with since 1980.
"Almost everything the president said about the failure of America's Cuba policy could be said of our policy on Iran," said Trita Pasi and Ryan Costello of the Washington-based National Iranian American Council. "There is little reason to expect that another 35 years of isolation would cause the Ayatollahs to surrender," they wrote on Dec. 18 in the Huffington Post.
The U.S. broke diplomatic relations with Iran after militants seized the U.S. Embassy in Tehran, holding 52 diplomats hostage for 444 days. The assault followed the 1979 revolution that brought Shiite Muslim clerics to power.
The U.S. and its allies have also imposed economic sanctions on Iran over its nuclear program. Iran denies allegations that its civilian program is a cover to build weapons.
Amid shifting geopolitical developments, the estrangement between the U.S. and Iran has eased. In September 2013, Obama placed a telephone call to Iranian President Hassan Rouhani, the first direct conversation between the two countries' presidents since 1979.
Before it's here, it's on the Bloomberg Terminal.
LEARN MORE