'The Hobbit' Tops Weekend Box Office After Terror Threat
Rob Golum and Christopher Palmeri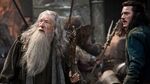 "The Hobbit: The Battle of the Five Armies," the last film in a J.R.R. Tolkien trilogy, opened as the top weekend movie in U.S. theaters, outdrawing Sony Corp.'s remake of "Annie," which was leaked online by hackers.
The action-fantasy from Warner Bros., its New Line Cinema unit and Metro-Goldwyn-Mayer Inc. produced $54.7 million in weekend sales, Rentrak Corp. said today in a statement. "The Hobbit" also outgunned a new "Night at the Museum" release from 21st Century Fox Inc. featuring the late Robin Williams. "Night of the Museum" generated $17.1 million to place second, while "Annie" garnered $15.9 million for third.
The weekend was the first since hackers threatened a terrorist attack in theaters scheduled to show "The Interview" on Dec. 25 and President Barack Obama urged Americans to continue to go to the movies. Sony canceled the release after cinemas balked at running the comedy about the assassination of North Korea's leader.
"The Battle of the Five Armies" closes out director Peter Jackson's second trilogy based on Tolkien works, following "The Lord of the Rings" series that ended in 2003. The film did more business in small towns and with younger audiences than its most-recent predecessor, last year's "The Hobbit: The Desolation of Smaug," according to Jeffrey Goldstein, executive vice president for domestic distribution at Warner.
"This is an incredible result for us and given everything that's happened in the past few weeks, the industry needed it too," he said in an interview. The film has generated more than $350 million worldwide, New Line said in a statement.
Pirates' Priorities
"Annie," a remake of a 1982 picture, was never expected to contend for the weekend's top honors. The film, also originally scheduled for a Christmas debut, was moved up to capture the attention of school children before the holiday break, according to Rory Bruer, Sony's president for worldwide distribution. He said he didn't think the fact that hackers had made "Annie" available for free on the Internet hurt theater attendance.
"Family films aren't really the pirates' first priority," Bruer said in an interview. "Even if that was the case, we certainly opened this film in a really good way."
Bruer declined to comment on release plans for "The Interview." He said the studio has a strong lineup for 2015, including a new James Bond movie.
"We're going to have a lot of films and some more we'll be announcing," he said. "We'll come out and be better than we ever were before."
Terrible Dragon
In the latest Tolkien picture, Martin Freeman returns as Bilbo Baggins, the hobbit who battles a variety of opponents, including the terrible dragon Smaug that lays waste to an entire town in the film's dramatic opening.
Ian McKellen reprises his role as the wizard Gandalf, while Orlando Bloom and Cate Blanchett also return in their supporting roles.
The studios spent about $745 million making the three pictures, according to the Hollywood Reporter. "The Battle of the Five Armies" garnered a 60 percent positive rating from critics whose opinions are aggregated at Rottentomatoes.com. Time Warner Inc. owns Warner Bros. and New Line.
"Annie" brings back to the big screen a story that started in 1924 with the debut of the "Little Orphan Annie" comic strip in the New York Daily News.
Academy Award-nominee Quvenzhané Wallis, from "Beasts of the Southern Wild," stars as the young foster child Annie. Jamie Foxx, playing a new version of Daddy Warbucks, co-stars as Will Stacks, a tycoon and political candidate who takes her in. Cameron Diaz is the foster mom Hannigan.
Critics' Ratings
Critics have been tough on the picture, with just 29 percent giving it a positive review, according to Rottentomatoes.com.
"The new-look 'Annie' hints at a progressive take on a well-worn story, but smothers its likable cast under clichés, cloying cuteness, and a distasteful materialism," the editors wrote on the website.
Sony Pictures spent $65 million making the picture, according to the studio, a sum that doesn't include marketing or advertising costs.
The Culver City, California-based division of Sony has been struggling to recover from an unprecedented cyber-attack linked to North Korea, including the release of several films on file-sharing websites. Hackers calling themselves the Guardians of Peace commandeered the company's computers, releasing confidential company and personnel information, and demanded that the studio halt plans to release "The Interview."
Magic Museum
"Night at the Museum: Secret of the Tomb" is the third picture in the series directed by Shawn Levy and co-written by Thomas Lennon and Ben Garant in which characters in a museum magically come to life.
In the new picture, Larry, played by Ben Stiller, is on a mission to save the magic that lets characters like Teddy Roosevelt, played by Williams, come back to life.
"Night at the Museum" was expected to generate $23 million in weekend revenue, the estimate of BoxOffice.com. The film cost $127 million to make, according to Box Office Mojo, another industry researcher.
Among returning films, "Exodus: Gods and Kings," the biblical epic from Ridley Scott, registered $8.1 million in its second weekend to place fourth for Fox. The film has produced $38.9 million in domestic sales since its release.
Weekend sales for the top 10 films fell 9.3 percent to $122.1 million from $134.6 million a year earlier. Sales for the year to date have declined 5 percent to $9.86 billion, Rentrak said.
The following table has U.S. movie box-office figures provided by studios to Rentrak. The amounts are based on gross ticket sales for Dec. 19 to Dec. 21.
                    Rev.    Pct.            Avg./   Total
Movie              (mln)    Chg. Theaters  Theater  (mln)  Wks
===============================================================
 1 Hobbit          $54.7     --    3,875  $14,122    $89.1    1
 2 Night At Museum  17.1     --    3,785    4,518     17.1    1
 3 Annie            15.9     --    3,116    5,090     15.9    1
 4 Exodus            8.1    -66    3,503    2,314     38.9    2
 5 Hunger Games      7.9    -38    3,174    2,482    289.4    5
 6 Wild              4.1    169    1,061    3,877      7.2    3
 7 Big Hero 6        3.6    -40    2,407    1,513    190.5    7
 8 Top Five          3.6    -48    1,307    2,747     12.5    2
 9 P.K.              3.6     --      272   13,108      3.6    1
10 Penguins          3.5    -52    2,717    1,279     64.1    4



Top 10 Films Grosses



   This Week     Year Ago      Pct.
     (mln)         (mln)       Chg.
===================================
    $122.1        $134.6      -9.3



Year-to-date Revenue



     2014          2013
      YTD           YTD        Pct.
     (mln)         (mln)       Chg.
===================================
    $9,855       $10,377      -5.0

Source: Rentrak Corp.
Before it's here, it's on the Bloomberg Terminal.
LEARN MORE