Crude Below $60 Tests Petrobras' Deepwater Discoveries
Juan Pablo Spinetto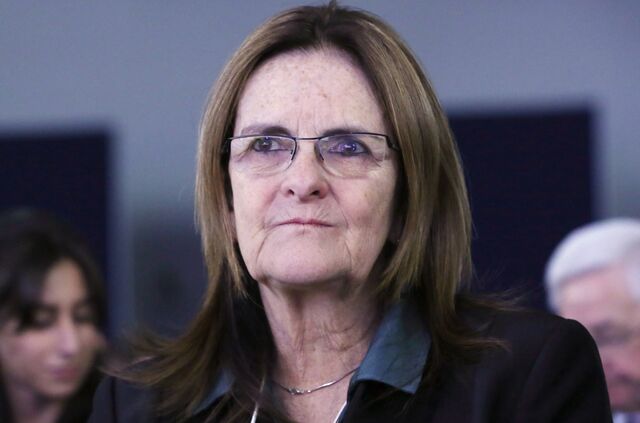 Petroleo Brasileiro SA Chief Executive Officer Maria das Gracas Foster said in June that the development of Brazil's giant oil discoveries beneath a layer of salt would be cheaper than competing North American projects.
That advantage is quickly evaporating.
Brent crude fell to as low as $58.50 in London this week, approaching the state-run producer's break-even range of $41 to $57 a barrel for the so-called pre-salt projects mentioned by Gracas Foster six months ago when oil was trading above $100.
Petrobras, which planned to invest more than $100 billion to tap deposits trapped two miles (3.2 kilometers) beneath the seabed off Rio de Janeiro, is slowing total spending after lowering its oil price estimate next year to $70 a barrel, it said last week.
While pre-salt economics are "pretty robust" and assets are poised to produce for years, some of the higher-cost projects that are still far from generating cash probably will be slowed, according to Ruaraidh Montgomery, a senior analyst for oil and gas corporate research at Wood Mackenzie.
"The projects that are at the higher end of that break-even range, and perhaps have not yet been sanctioned, then you can see them being delayed until the price environment stabilizes," Montgomery said by telephone from Houston. "We are not that far away from some of the smaller ones perhaps, the small ones with the higher break-evens, becoming economically marginal."
2007 Euphoria
Pre-salt oil was formed when the South American and African continents began separating more the 100 million years ago. The repeated flooding and evaporation of salt water in what is now the South Atlantic created a layer of the mineral as thick as 2 kilometers that blankets the largest crude discoveries in the Western Hemisphere since Mexico found Cantarell, the world's third-biggest when discovered in 1976.
The pre-salt discovery in Brazilian waters triggered euphoria in 2007 in a country that had traditionally relied on imported hydrocarbons. Petrobras, which pioneered deep-water exploration in the 1970s, doubled its investment pace to tap the new riches while the country boosted taxes and toughened oil extraction rules to benefit local industry.
Seven years later, Rio-based Petrobras produces more than 600,000 barrels a day from pre-salt projects, or about 28 percent of its Brazilian output. The company, which has missed production goals for the past 10 years because of project delays, expects that proportion to rise to more than half the 4.2 million barrels of production targeted by 2020.
Graft Scandal
The free-fall in oil prices comes at a bad time for the grand plans of the producer founded in 1953 by dictator Getulio Vargas. Petrobras' shares are trading close to the lowest in a decade amid an expanding investigation into construction and engineering firms that allegedly bribed company officials to win some of its largest infrastructure contracts. The probe, already Brazil's biggest corruption scandal, has delayed the publication of Petrobras' third-quarter results as it considers writedowns needed to account for graft-related costs.
Petrobras rose 3.9 percent to 9.83 reais at the close in Sao Paulo today, the most since Dec. 3. The stock has declined 42 percent this year.
Petrobras also faces a weakening Brazilian real that makes its U.S. dollar-denominated debt more burdensome. The company had net debt of 261 billion reais ($98 billion) as of Sept. 30.
"Everything that could go wrong for Petrobras is going wrong," Marcel Kussaba, an equity analyst at asset manager Quantitas Gestao de Recursos SA, which oversees about 16 billion reais, said from Porto Alegre, Brazil. "In the short run, there is not a lot they can do regarding cutting investments."
Margins Squeezed
While the minimum oil price needed for the Brazilian pre-salt projects to be viable is between $41 and $57 a barrel, shale oil projects in the U.S. and oil sands in Canada require as much as $88 a barrel, CEO Gracas Foster said in a June 2 presentation. The company, which included a $45 break-even cost in its 2014-2018 business, declined to comment on the effect of lower prices.
Petrobras still sees pre-salt projects as profitable and isn't discussing any delays as it expects a price recovery in coming years, Jose Formigli, the company's director of exploration and production, told reporters in Rio on Dec. 17.
"Pre-salt profitability keeps guaranteeing the continuity of the projects, both already in operation as those in the pipeline to be approved by the board," he said. "Of course the margins have diminished but they are still positive."
Pre-salt projects are envisioned to operate for decades, meaning companies take a longer term view on investment decisions than shale gas, for example, said Rodrigo Mas, a partner at Bain & Co. in Rio.
Adapting to Slump
"The general view of the market is that medium- to longer-term oil fundamentals are above the current levels," he said by telephone. "With similar costs of $60 a barrel you can have a decision to continue pre-salt projects and halting shale gas given the short-term outlook."
Brent crude is down 44 percent this year to the lowest levels since May 2009. It plunged more than 20 percent since the Organization of Petroleum Exporting Countries decided Nov. 27 to keep its production target unchanged at 30 million barrels a day, ignoring calls from members including Venezuela to curb output to tackle a surplus. West Texas Intermediate, the U.S. grade, climbed as much as 5.2 percent in New York today and Brent gained as much as 5.7 percent in London.
Brent is forecast to rebound to $77.50 a barrel in 2015, according to the median of 46 analysts surveyed by Bloomberg.
Petrobras had forecast a Brent price of $100 a barrel for 2015-2017 and $95 from 2018-2030 in its 2030 strategic plan released in February. The company said Dec. 12 that it's working with a $70 price estimate for next year and is reducing the level of capital expenditures. This week Formigli said Petrobras is cutting its price forecast and is taking measures to adapt to lower prices.
Before it's here, it's on the Bloomberg Terminal.
LEARN MORE