First 'The Interview,' Now Theaters Cancel Protest Screenings of 'Team America'
How the South Park creators got wrapped up in the North Korea hacking panic.
By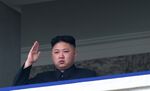 In the wake of Sony's cancellation of The Interview, several art house theaters announced that they would—patriotically, of course—use their emptied screens to play the 2004 puppet-driven political comedy Team America: World Police. This afternoon, several of those theaters announced that they'd been told by Paramount Pictures that the movie could not be screened.