Environmentalists Don't Want the Sage Grouse to Be the Next Spotted Owl
Environmentalists team with oilmen to protect the sage grouse
By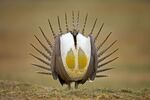 A century ago, millions of the puffy-chested birds known as greater sage grouse lived across the western U.S. The incursion of cattle ranchers, developers, and oil drillers into brush-covered mountain areas decimated the population, which today numbers no more than 500,000 birds and may be less than half that. Now, the U.S. Fish and Wildlife Service is considering whether to list the species for protection under the Endangered Species Act. That would severely restrict oil and gas exploration, as well as other commercial activities, in the birds' habitat, which covers an estimated 165 million acres in Idaho, Montana, Nevada, Wyoming, and seven other states.

Environmentalists fought a bitter political battle 25 years ago against the timber industry over the spotted owl, which was listed as threatened in 1990. Some conservationists trying to protect the greater sage grouse are taking a different approach. They're teaming up with ranchers, energy companies, and government officials to build a system that would let private interests pay to protect sage grouse habitat in exchange for development rights. "We want populations to be growing, so that a listing is not necessary," says Eric Holst, senior director for working lands at the Environmental Defense Fund, which advocates for market-based solutions to environmental problems and has taken a lead in establishing the programs.
The exchanges could be a model for dealing with the dozens of other species federal authorities may list as threatened or endangered. They borrow from cap-and-trade markets for power plants, which let polluters buy credits to offset their carbon emissions. Oil and gas companies would pay landowners to protect or restore habitat. In return, energy companies would get rights to drill in other places where the birds live—and, they hope, head off federal regulations. A 2014 study by Lowell Baier, a lawyer and pro-hunting conservationist, estimated that preserving the greater sage grouse on federal lands alone could cost as much as $5.6 billion a year in foregone economic activity.

Federal and state officials are reviewing one proposed exchange near Jackson, Wyo., where Jonah Energy has 1,600 gas wells in prime sage grouse territory. "A listing jeopardizes a lot of that activity," says Paul Ulrich, Jonah's head of government relations.
A Colorado group that includes state officials, ranchers, hunters, the Colorado Oil & Gas Association, and the Environmental Defense Fund is also developing an exchange. They're trying to devise a system for valuing land offered for habitat, so that denuded areas aren't accepted for pristine terrain. "We're in the really tough part of the negotiations," says John Swartout, rural policy director for Colorado Governor John Hickenlooper, a Democrat. "At the end of the day, the oil and gas industry has to ask itself if this makes sense."
Credit for a habitat acre could cost $500 to $1,000, depending on how valuable the land is to the bird and to developers, says Jon Kehmeier, a Denver-based ecologist at SWCA Environmental Consultants, an environmental planning company. Land near mating areas or feeding grounds could be more expensive than other areas in the birds' territory. "This gives ranchers the ability to monetize the conservation they do on their land," says T. Wright Dickinson, a fourth-generation Colorado rancher involved in the exchange talks.
Critics of the exchanges say preserving land in one place doesn't make up for disturbing sage grouse elsewhere. Sagebrush, which the birds eat, can take decades to regrow, and greater sage grouse need wide swaths of unadulterated habitat to thrive. "We don't have the ability to create or even improve the sage grouse habitat," says Erik Molvar, a wildlife biologist at WildEarth Guardians, a nonprofit based in Santa Fe, N.M., that's pushing the federal government to declare the greater sage grouse endangered. "It makes more sense to protect the good habitat."
The Obama administration has welcomed the exchanges. "We are receptive for this kind of approach," says Michael Bean, a former Environmental Defense Fund attorney who is now a Department of the Interior adviser on endangered species policy.
In November, the Fish and Wildlife Service added the Gunnison sage grouse, a smaller cousin of the greater sage grouse, to its list of threatened species. Republican lawmakers added a provision to the 2015 federal spending bill, which passed the Senate on Dec. 13, forbidding the agency from working on any similar rules covering the greater sage grouse at least until the bill expires next October. Eric Washburn, a principal at the lobbying firm Bracewell & Giuliani, which has represented the Environmental Defense Fund and other groups working on the exchanges, says the delay creates a window for groups in all states with greater sage grouse populations to work out their own exchange plans.
— With assistance by Jim Snyder
BOTTOM LINE -
The bottom line: To save the greater sage grouse, some environmentalists are pushing for market solutions rather than regulations.
Before it's here, it's on the Bloomberg Terminal.
LEARN MORE