Retailers Told to Halt Realistic Toy Gun Sales in N.Y.
Christie Smythe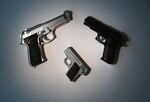 Wal-Mart Stores Inc. and Amazon.com Inc. were among retailers warned by New York's attorney general to stop violating the state's ban on sales of realistic-looking toy guns that might be mistaken for the real thing, a risk made clear last month when police in Ohio killed a boy holding a pellet gun.
Tamir Rice, 12, was fatally shot in November by police in Cleveland while he was holding a pellet gun. That incident, as well as the deaths of two unarmed black men at the hands of officers on New York's Staten Island and in Ferguson, Missouri, sparked demonstrations and debate about race and law enforcement's use of force.
"When toy guns are mistaken for real guns, there can be tragic consequences," New York Attorney General Eric Schneiderman said today in a statement. "Retailers cannot put children and law enforcement at risk by selling toy guns that are virtually indistinguishable from the real thing."
The retailers, which also include Sears Holdings Corp. and ToyArsenal.com, were found to have violated a New York ban on selling certain toy guns, mostly by shipping products bought online to customers in the state, Schneiderman said.
One Kmart in the Rochester area was found to have prohibited toy guns on its shelves, he said. The attorney general said he sent cease-and-desist letters to the merchants.
Toy Guns
New York state law generally prohibits the sale of imitation guns in realistic colors such as black, blue, silver, or aluminum unless they have a prominent orange stripe. Federal law also restricts sales of toy guns that resemble real ones.
Schneiderman said his office found that toy guns banned in the state have been widely available online and accessible to New Yorkers. Some were advertised as "realistic looking" and "full size," including imitation assault rifles, shotguns and pistols, he said.
Since 1997, four people have been killed in New York when law enforcement mistook toy guns for real ones, he said.
Representatives from Wal-Mart and Sears Holdings said they took steps to prevent the sales of the offending toy guns in New York once they were notified.
Brian Nick, a spokesman for Bentonville, Arkansas-based Wal-Mart, said the world's largest retailer placed a shipping block on its website to prevent the toy guns at issue from being sent to New York and is confident that measures are in place to prevent the sale of the items in New York stores.
Howard Riefs, a spokesman for Hoffman Estates, Illinois-based Sears Holdings, said the company is in the "process of immediately removing any non-compliant toy guns that are offered for sale by Sears or Kmart to New York consumers" and will fully cooperate with the state attorney general.
Representatives of web-based retailers Amazon and ToyArsenal.com didn't immediately respond to requests seeking comment.
Before it's here, it's on the Bloomberg Terminal.
LEARN MORE