Mutual Fund Managers' Stupid Year
Avoiding Apple was among the many mistakes pros made this year
by and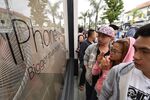 The smart money doubted Apple this year. Oops. The company's shares rose 33 percent through Dec. 16—almost five times the Standard & Poor's 500-stock index's 6.7 percent. "It's been a really confusing year," says Kim Forrest, an analyst at Fort Pitt Capital Group in Pittsburgh. "There have just been a handful of stocks that drove the market, and Apple was obviously one of them."
Shunning the iPhone maker is turning out to be one of the worst blunders in 2014 for mutual fund managers, who are trailing their benchmark indexes by the most in almost a decade. Investors who clung to winners from the first five years of the bull market—such as Internet companies and small stocks—got burned in the sixth as chipmakers, utilities, and high-dividend stocks rallied. Last year proved a particularly poor blueprint for this one. Apple rose 5.4 percent in 2013, its second-worst return in a decade, while Amazon.com rose 59 percent and Twitter more than doubled after going public. Those two are down 26 percent and 45 percent, respectively, in 2014.

The Dow Jones Internet Composite Index, which jumped 54 percent in 2013 and 417 percent in the first five years of the bull market, is down 2.7 percent this year. The Russell 2000 Index of smaller companies, up 37 percent last year and 236 percent since March 2009, has fallen in 2014. One of the best things you could have done this year was own "hated" companies—those that had the most investors betting they would fall and with the lowest rankings from analysts, according to data compiled by Bloomberg. That strategy would have steered you to such stocks as Exelon and Micron Technology, with average gains of 25 percent since January.
Intel and Microsoft are both up more than 20 percent in 2014. Along with Apple, they account for 24 percent of the S&P 500's 124-point advance so far this year. Most money managers were light on those stocks, according to data compiled by Goldman Sachs. Missing out on some of the biggest winners, almost 80 percent of mutual funds focusing on large growth stocks are trailing their benchmark, the second-highest proportion since 2004, data compiled by research company Morningstar show. About 87 percent of funds that purchase large value stocks gained less than their benchmark measure, as did almost 90 percent of the midcap funds.
Most professional investors decided Apple euphoria was wearing thin after the shares trailed the market in 2013 by the most in 13 years. As Chief Executive Officer Tim Cook unveiled plans to update products and introduce a mobile payment system and smartwatch, its shares soared, beating the S&P 500 by the most for any large American company since Microsoft's 49 percent outperformance during the Internet boom a decade ago.
Shares of Intel and Microsoft were below their typical price to earnings ratios at the start of 2014 as concern grew that a consumer shift toward mobile devices would hurt their businesses in personal computers. When demand for PCs fared better than forecast, the shares rallied as investors who had shunned the stocks piled in.
Going against the grain now would lead you to buy shares in energy companies—whose loss of 17 percent through Dec. 16 is triple the next-worst-performing group in the S&P 500, phone stocks. That's what Bill Nygren is doing. Nygren manages the Oakmark Select Fund, which has beaten 96 percent of similar funds this year with a gain of 9.1 percent, helped by stakes in takeover targets such as Forest Laboratories, TRW Automotive, and DirecTV. During the energy selloff of the past six months, as crude fell to $56 a barrel from $107, Nygren bought shares of oil producer Apache. "Unloved companies tend to be the most interesting hunting ground for future outperformance," he says. "The reason that Intel and Microsoft were able to do so well is that they were so unpopular."
Before it's here, it's on the Bloomberg Terminal.
LEARN MORE