Doctors Will Get Less Money for Treating Medicaid Patients Starting in January
Congress is letting higher Medicaid payments under Obamacare expire
By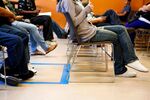 Sandhills Pediatrics, a group practice near Fayetteville, N.C., recently hired a child psychiatrist and a psychiatric nurse practitioner. It also expanded a satellite office in Hoke County, where almost a third of children live in poverty. About half of Sandhills' 20,000 patients are covered by Medicaid, the joint federal-state health program for the poor, and the practice was able to add the services thanks to a boost in the reimbursement rates Medicaid pays primary-care doctors under the Affordable Care Act.
The 2010 law guaranteed federal funding to cover the higher rates only in 2013 and 2014. President Obama's proposed 2015 budget would have continued the higher payments, but that provision never made it into the $1.1 trillion spending bill Congress passed on Dec. 13. As a result, federal reimbursements will drop to 2012 levels starting in January. Sandhills expects its Medicaid revenue to fall 26 percent next year. "It means a tremendous loss," says Sandhills managing partner Christoph Diasio.
Treating Medicaid patients is usually a money loser for doctors, which is why many physicians refuse to do so. The Affordable Care Act, which extended coverage to poor Americans by widening eligibility for Medicaid, added 9 million people to the program rolls. To encourage doctors to see them, Congress offered a carrot: Medicaid would pay the same rates as Medicare, the federal health insurance program for Americans older than 65. Medicare fees are generally higher than Medicaid fees.

Only half of family doctors accepted Medicaid in 2013, down from 65 percent four years earlier, according to a 15-city survey by physician staffing firm Merritt Hawkins. About half the providers listed by privately run Medicaid managed-care plans aren't taking new patients, according to a report published in December by the U.S. Department of Health and Human Services Office of Inspector General. Of those offering appointments, more than a quarter were booked for at least a month.
The bump in Medicaid reimbursements cost the federal government $5.6 billion for the first 18 months of the program. The program spent $449 billion last year, more than half of that funded by Washington. Medicare spent $586 billion in 2013, almost all of it from the federal government.
With about 63 million enrollees, Medicaid serves more patients than Medicare, which has about 54 million beneficiaries. (Some people are eligible for both.) But Medicaid doesn't have the same political clout. Medicare is a top priority for the influential AARP lobby, and its older beneficiaries are more reliable voters than generally younger and poorer Medicaid recipients. "The program is marginalized," says Mark Gallant, an attorney at Cozen O'Connor who represents Medicaid providers.
The Centers for Medicare and Medicaid Services, the federal agency that oversees the programs, requires states to pay only enough to ensure "adequate access" for patients. It could set the minimum reimbursement rates for Medicaid without congressional approval if too many patients can't find doctors to care for them, Gallant says.
At least 15 states plan to keep paying doctors at higher rates even without federal subsidies, according to the Urban Institute, a nonpartisan think tank in Washington. Michigan's Republican-led statehouse is one. Payments from Medicaid would have dropped by more than half if the state hadn't agreed to make up the difference, according to the Urban Institute. Cheryl Gibson Fountain, an obstetrician-gynecologist on the board of the state medical society, says Michigan has seen the consequences of paltry Medicaid payments. St. John Detroit Riverview hospital, where she worked for 20 years, closed in 2007, partly because so many of its patients were on Medicaid. Detroit now has no ob-gyns in private practice, she adds—they've moved to the suburbs in search of patients with better insurance, they've retired, or they've gone to work for hospitals, because they can't afford to stay in business. "If it costs you a dollar to care for a patient and you're only getting paid 60¢," she says, "you're actually paying to take care of a patient."
BOTTOM LINE -
The bottom line: A cut in funds used to pay physicians taking Medicaid patients may make it harder for enrollees to find care.
Before it's here, it's on the Bloomberg Terminal.
LEARN MORE