Jeb Bush Signals Business Wind-Down with Barclays Departure
It's one of the first tangible signs that the potential presidential candidate is winding down his business affairs.
By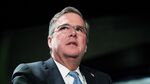 Now that former Florida Governor Jeb Bush has declared himself a quasi-candidate for the Republican presidential nomination—forming a "leadership PAC" but stopping short of an exploratory committee—he's drawing more scrutiny than he was a couple of weeks ago, including scrutiny of his business record. In a big takeout on his private-equity career in the new Bloomberg Businessweek, we wrote that what was odd about Bush's dealings was that he'd just established a series of new funds, the latest of which only came to light on Nov. 27. Launching new business ventures isn't the type of activity you'd normally expect from someone imminently preparing to jump into a presidential race.