Jeb Bush Signals Business Wind-Down with Barclays Departure
It's one of the first tangible signs that the potential presidential candidate is winding down his business affairs.
By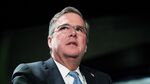 Now that former Florida Governor Jeb Bush has declared himself a quasi-candidate for the Republican presidential nomination—forming a "leadership PAC" but stopping short of an exploratory committee—he's drawing more scrutiny than he was a couple of weeks ago, including scrutiny of his business record. In a big takeout on his private-equity career in the new Bloomberg Businessweek, we wrote that what was odd about Bush's dealings was that he'd just established a series of new funds, the latest of which only came to light on Nov. 27. Launching new business ventures isn't the type of activity you'd normally expect from someone imminently preparing to jump into a presidential race.
The Financial Times, on the other hand, reports that Bush will leave his paid advisory position at Barclays on Dec. 31. (A person with knowledge of the matter confirmed the move to Bloomberg News' Stephen Morris on Thursday.) That's more in keeping with what you'd expect from a potential candidate, and it's the first tangible sign I'm aware of that Bush is winding down his business affairs. 
The FT notes, as we did, that Bush's private-equity funds leave him open to the same kinds of attacks that felled 2012 Republican nominee Mitt Romney, drawing the consternation of some Republican strategists.
While it seems like less of a political detriment since Bush is an adviser rather than a principal, his Barclays work isn't without potential controversy. Writes the FT: "Mr Bush, who served as an adviser to Lehman Brothers before its collapse during the financial crisis, has rarely spoken about his work at the British bank, which has been ensnared by scandals such as the manipulation of key benchmark interest rates and the mis-selling of payment protection insurance in recent years."