Time to Make the Nutella-Filled Doughnuts
Is there a market in Europe for flavored coffee and fried dough?
By and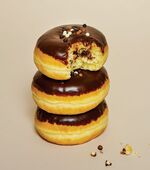 Pity the humble kanelbullar. The traditional Swedish cinnamon roll might soon lose favor if Victoria Rimbo's preferences are any indication. On a chilly, early December morning, Rimbo and more than 100 others waited in line for the opening of the first Dunkin' Donuts store in Sweden, at a shopping center in Täby outside Stockholm. Rimbo, 18, was at the head of the line, hoping to win one of a handful of promotional giveaways: six free doughnuts a week for a year.
"The doughnuts are famous in the U.S., but I've never had one," she says. When the metal gates lifted and she finally made it inside, Rimbo bought two doughnuts: a double caramel and something called a "Mr. Happy International," adorned with the global symbol of happiness, a smiley face. Rimbo left with a smile on her face, too.
Dunkin' Donuts is a household name in the U.S., yet across most of Europe, the 64-year-old coffee and pastry chain is largely unknown. The business has more than 150 European stores out of 11,000 worldwide, but that doesn't come close to what company executives say is the great untapped potential to entice svelte Europeans to their flavored coffees and glazed breakfast treats. Europe accounts for only 1 percent of the company's $9.3 billion in sales. So Dunkin' Donuts is now in major expansion mode, with plans to open an additional 1,150 outlets from Leeds in the north of England to Bulgaria and Georgia in Eastern Europe.
In some places, the expansion is a repeat effort. Dunkin' tried to make a go of it in the U.K. in the 1990s but failed because of poorly chosen locations and inexperienced franchisees.
"We have an iconic brand name, and when we open our doors, people are excited to see us," says Paul Twohig, Dunkin's European president. "Then it's up to us to do it right. Success is not guaranteed."
Failure in Europe isn't an option for Twohig and his boss, Dunkin' Brands Chief Executive Officer Nigel Travis, an Englishman. Same-store sales growth at Dunkin' Donuts' U.S. locations, a key barometer of success in the restaurant business, fell to 2 percent in the most recent quarter, from 4.2 percent for the same period last year. The drop comes amid heightened competition and a sluggish economic recovery. Travis said that meeting Dunkin' Donuts' full-year U.S. growth forecast of 2 percent to 3 percent will be a challenge.
The approach in Europe now is to tailor the menu to each country. Dedicated corporate teams—marketing, operations, and store development—are staffed mostly by locals, not American expats, who know the tastes of their customers. In Germany, doughnut varieties include plum and kirsch-banane, a cherry-and-banana concoction inspired by a traditional cherry-brandy cocktail of the same name. U.K. stores sell a Nutella-filled doughnut. In Sweden, some of the pastries carry the country's flag.
If that won't sway the locals, maybe the seating will. Company executives are hoping to turn a cup of coffee and a pastry into more of a sit-down meal. A store in Leeds will have 100 seats when it opens in February, a departure from the grab-and-go model of most of Dunkin's U.S. locations. Food—bacon and egg sandwiches, chicken wraps, sausage—will be served on ceramic plates, and customers can stick around and enjoy free Wi-Fi.
"The cafe culture in Europe is quite pronounced, so it's far more likely our stores will be used later in the day," Twohig says. "We need to provide an environment that encourages lingering. That's a learning curve for us."
Dunkin' is also keeping a close eye on costs, with fewer stores in high-rent city centers than when it originally entered Europe. A location in London's Piccadilly Circus in the early 1990s struggled to break even. Also, doughnut production and distribution for about half of the European stores have been outsourced to a Spanish company called Europastry.
Dunkin' has done well in one market—Germany. It first moved there in 1999, with stores in Berlin and its suburbs. It now has 58 shops in Frankfurt, Munich, and Stuttgart, many of them in transit hubs. One new location, in a Munich railway station, generates more than $40,000 in sales per week, roughly double what the average American store delivers.
The broader push comes as European habits have changed over the past decade. Interest in American-style doughnuts in the U.K. has taken off in recent years, and the convenience of takeout lattes has chipped away at tea's dominance.
Dunkin' isn't the first to capitalize on these trends. It faces competition from the likes of Krispy Kreme Doughnuts and Starbucks, along with U.K.-based chains Caffè Nero and Whitbread's Costa Coffee. Costa, Britain's largest coffee chain, has about 1,900 locations in the U.K. Starbucks's European business, once a laggard, has delivered six consecutive quarters of comparable-store sales growth; it now plans to double the number of European stores to more than 4,000 by the end of fiscal 2019.
Dunkin' also faces trendier rivals such as London's Dum Dum Donutterie, whose founder, Paul Hurley, worked for Dunkin' as a teen in the 1990s. His menu includes a Baileys Creme Yule Log, a baked cronut (doughnut-croissant hybrid) filled with Baileys buttercream and covered in dark chocolate fondant.
"There will always be demand for a sugar fix," says Simon Stenning, executive director at restaurant industry researcher Allegra Foodservice in London. "But Dunkin's not going to be mainstream. They will always be a challenger."
Still, Dunkin' has won over some fans. Angela Ivory, 31, a pub manager in St. Albans, a suburb of London, says, while nursing a caramel latte: "It's coffee and doughnuts. What could go wrong?"
Before it's here, it's on the Bloomberg Terminal.
LEARN MORE