Oil City Prepares for Pain
Houston's energy industry faces layoffs and spending cuts
by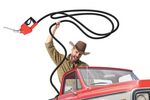 On Dec. 11 local business leaders packed into a ballroom at the Omni Hotel near downtown Houston for a yearend chamber of commerce luncheon. There was a lot to celebrate. At more than $500 billion, Houston's regional economy is now the fourth-largest in the U.S. Over the past decade, Houston has added more jobs—628,000—than exist in all of New Orleans. In August, more new-home permits were issued in Houston than in the entire state of California. Twice as much office space is being built there as in New York City.
Despite the Texas-size smiles at the lunch, fear was in the air. A barrel of oil cost $45 less that day than it did in July, the last time prices were over $100. Houston is home to more oil companies than any other city in the world, and a decade of high prices has transformed it. Asked by the moderator at the lunch what they wanted for Christmas, audience members texted in their answers. The word-cloud projected onto a large screen included wishes for a new boat and a BMW X6. At the center in big, bold letters was the top wish: higher oil prices. By the end of the day, oil had fallen below $60 a barrel for the first time since 2009.
Although it's early days for the oil glut, Houston is starting to feel the pain. Energy companies have begun announcing cuts to their 2015 capital budgets of as much as 25 percent. Rig counts are falling in Texas as companies shut down drilling operations. At $60 a barrel, by a rough calculation, companies producing oil in Texas have collectively seen their monthly cash flow fall from $6.4 billion in June to $3.6 billion.
A lot of that money flows through Houston, the nerve center of the U.S. oil business. Its corporate headquarters are filled with some of the industry's highest-paid, white-collar talent: executives, accountants, traders, and the engineers and geologists who figure out how to unlock millions of barrels of oil from rock formations thousands of feet underground. The average pay in 2013 for an energy job in Houston was $185,000, compared with an average wage of $64,500 for every other sector in the metro region. Layoffs will probably be delayed until after Christmas. "The go-go days of Houston are over," says Steven Kopits, an oil analyst at Princeton Energy Advisors. "And they're not coming back for a long time."
The question of how badly cheap oil damages Houston's economy ultimately depends on how low prices go, how long they stay there, and the strength of Houston's considerable nonoil economy. For now, construction cranes still fill Houston's skyline, though a couple of office buildings have been put on hold, says Scott Evans, director of business development at Hoar Construction, an Alabama-based builder. With oil prices tanking and layoffs imminent, "people are getting extremely cautious when it comes to Houston," he says.
Expensive oil, coupled with the U.S. shale boom, lured a wave of young talent to Houston to earn close to six-figure salaries right out of college. Adam Hoffman, an energy trader who moved to Houston from New York in 2013, recalls going to a new club when he got to town: "When you walk into a place that's been open for a month and everyone's ordering $3,000 bottle service and wearing sunglasses inside, it's probably not going to end well."
Houston won't stop growing completely. Patrick Jankowski, the resident research economist at the Greater Houston Partnership, the regional chamber of commerce, says Houston will create 62,900 jobs in 2015 despite losing about 9,000 energy jobs. Bill Gilmer, an economist at the University of Houston, is less optimistic. He says oil-producing companies could cut as many as 28,000 jobs in Houston next year. He adds the region will generate about 50,000 total jobs in 2015, half the pace of the last three years.
A lot of Houston's young white-collar oil workers could be insulated. A sustained period of low oil prices through the 1980s and '90s kept the industry from hiring until the most recent surge. "After the boomers came through, they never trained another generation of workers," says Gilmer. "There is still an enormous crush for engineering skills."
Houston should also get help from the broader U.S. economy, which is finally starting to click. Low oil prices and cheap gasoline will boost consumer spending across the country. But for Houston, oil is getting dangerously cheap. According to a Dec. 2 report from Metrostudy, a local market-research firm, oil prices below $55 a barrel suppress job growth and home-buying demand in Houston. On Dec. 17 oil closed at $56.47 a barrel. "We're entering a period where oil won't be the primary driver in Houston's economy," says the Houston Partnership's Jankowski.
In the '80s the city was hit hard by falling oil prices. Wells dried up, banks failed, and Houston's population fell. It took decades to fill the housing and office space that had been built. Back then, energy made up about 80 percent of Houston's economy. Today it's 38 percent, says Jankowski. Houston's port is now the biggest in the U.S. Its Texas Medical Center is the largest medical complex in the world. Growth in Houston has been so strong recently that the supply of homes is still tight. "We've been playing catch-up for five years," says Paul Connor, a principal at McAlister Investment Real Estate, a local firm. "Houston is probably due for a cooling-off period."
The city's energy sector is also more diverse than it used to be. Much of the wealth created by high oil prices has been concentrated on the west side of town, known as the Energy Corridor, which is dotted with the headquarters of some of the biggest oil companies in the U.S.: BP America, ConocoPhillips, and Shell Oil. But there's a boom going on in the eastern, industrial side of Houston, where companies such as Dow Chemical and Valero Energy are building petrochemical and refining plants. Cheap oil, just like cheap natural gas, will be a boon to them. "Labor could start to migrate across town," says the University of Houston's Gilmer.
The luxury markets will still take a hit. At the local Aston Martin dealership, where a car can cost $300,000, December is typically its best month. In December 2007 it sold 20 new cars. As of Dec. 13 it had sold four. Dealer Tom Duer retains the typical Houston optimism. "The month's only half over," he says.
Before it's here, it's on the Bloomberg Terminal.
LEARN MORE