The Coming Explosion of the Cuban Cigar
The cigar community is getting ready to taste the forbidden fruit—will it be as great as they've dreamed?
By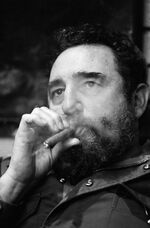 The news that the U.S. will restore diplomatic relations with Cuba dropped like a bombshell this morning. But let's be frank: unless you're Henry Kissinger, your first question isn't about the geostrategic implications of this development. It's about how soon you'll be able to buy legendary Cuban cigars, so coveted that John F. Kennedy sent his aide Pierre Salinger to acquire a supply of 1200 just before he imposed the embargo in 1962. At W. Curtis Draper Tobacconist, a favorite lobbyist hangout down the block from the White House, the atmosphere was palpably excited (and smoky).