Rate Guidance and Inflation Outlook Dominate Fed Agenda
Matthew Boesler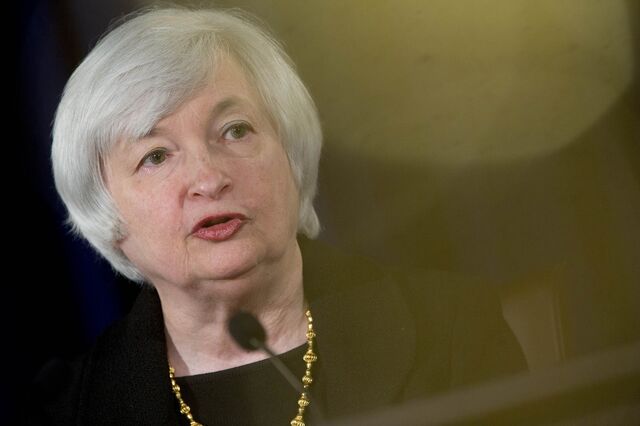 Here's what to look for when the Federal Open Market Committee releases its policy statement along with quarterly economic projections at 2 p.m. today in Washington, and Federal Reserve Chair Janet Yellen holds a press conference at 2:30 p.m.
-- Forward guidance: The Federal Reserve will drop its vow to keep interest rates low for a "considerable time," even as Russia's economic crisis roils markets, most economists said.
The U.S. economy is strong enough to offset any concern about Russia, said Carl Tannenbaum, chief economist at Northern Trust Corp. in Chicago.
"As they set policy based on the outlook, they will probably not be deterred" from removing the phrase because of "very strong domestic fundamentals," said Tannenbaum, who formerly worked at the Chicago Fed.
The FOMC will replace "considerable time" with a word such as "patient" to describe its approach to policy, according to 68 percent of 56 economists surveyed by Bloomberg last week.
Some other analysts said recent turmoil in global markets, including the drop in oil prices, may persuade officials to leave the "considerable time" guidance in place.
"Liquidity is about to start drying up. If you make any changes right now, any reaction might be amplified," said Jennifer Lee, a senior economist at BMO Capital Markets in Toronto. "I don't think they want to rock the boat too much."
Rate Path
-- Pace after liftoff: Yellen, in her press conference, is likely to stress that that the Fed's interest-rate path will depend on how economic data evolves, said Lou Crandall, chief economist at Wrightson ICAP LLC in Jersey City, New Jersey.
"There is a fairly good chance that she will point out that once the rate hikes begin, that they will definitely not be on the same kind of predetermined schedule that they were on last time," he said. When the Fed began raising rates in June 2004, it did so at a "measured" pace, which translated into a quarter-point increase at every meeting for the next two years.
The median forecast of FOMC participants in September for the federal funds rate at the end of 2015 was 1.375 percent. Of the 56 economists surveyed by Bloomberg, 49 percent said the median forecast won't change, while 31 percent saw it moving lower, and 20 percent expected it to rise.
Cheaper Gasoline
-- Oil, Inflation: Policy makers will look past the disinflationary impact of declining oil prices and instead emphasize the benefits to consumers, whose buying power is getting a boost from cheaper gasoline, said Paul Ashworth, chief U.S. economist at Capital Economics NA Ltd. in Toronto.
"I would be amazed" if policy makers don't put a positive spin on the drop in oil, Ashworth said. "Gasoline prices have tumbled, and we are already seeing that in stronger U.S. data."
While FOMC members are likely to lower their forecasts for headline inflation next year, economists said, their outlook for price changes excluding food and energy is unlikely to change, said Jim O'Sullivan, chief U.S. economist at High Frequency Economics in Valhalla, New York.
"I would be very, very surprised if, at this point, they were to lower their core inflation forecasts for 2015, especially since the 2014 numbers are pretty much on track," he said.
Core Prices
The Fed's preferred gauge of inflation rose 1.4 percent in October from a year earlier, down from 1.5 percent in August. It hasn't been above the Fed's 2 percent target since March 2012. The core price index of personal consumption expenditures rose 1.6 percent in October from a year earlier, up from 1.5 percent in August.
-- Balancing mandates: The most interesting question Yellen could face in her press conference is whether the Fed will raise rates before inflation increases and wage gains accelerate, said Guy Berger, an economist at RBS Securities Inc. in Stamford, Connecticut.
"The inflation and wage stories are sort of the last pieces of the puzzle they are really waiting for to fall into place, given the labor market looks good and the economy is growing at a pretty decent pace," he said.
U.S. employers added 321,000 jobs to non-farm payrolls in November, the most since January 2012. The jobless rate stayed at 5.8 percent, a six-year low. While average hourly earnings picked up in November to a 2.1 percent annual pace, they were still little higher than inflation.
"Any sort of sense of confidence, or lack of confidence" in the inflation outlook "is what we will be paying attention to" because it could have implications for the timing of liftoff, Berger added.
Before it's here, it's on the Bloomberg Terminal.
LEARN MORE