China's Coal Demand May Peak Before 2020
Renewable energy is starting to make a difference
Christina Larson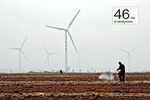 China accounted for almost half of the coal burned globally in 2011, according to the U.S. Energy Information Administration (EIA). The country is also the largest emitter of the greenhouse gases that cause global warming—with much of the carbon produced by burning coal. A professor at Tsinghua University calculated that smog from coal contributed to 670,000 deaths in China in 2012.
There's some good news: China's use of coal is "very likely to peak before 2020," says a report from the National Bureau of Asian Research (NBR), an independent think tank based in Washington and Seattle. The author, Li Zhidong, a professor at Nagaoka University of Technology in Japan who studies sustainable development, examined data from China's National Bureau of Statistics to find that the country's appetite for coal is rising at a much slower rate today than it was a few years ago. In 2011, China's coal consumption jumped 9 percent. In 2013 it rose only 2 percent. J Capital Research, an economic analysis firm, figures coal production actually fell 0.3 percent in 2012, 1.2 percent in 2013, and about 1 percent in 2014.

"China's economic development has been entering into a new era of service-oriented growth," which will require less energy than manufacturing and infrastructure development, writes Li. The Chinese have been building power plants that burn coal more efficiently and tearing down old facilities. The push to expand renewable energy is chipping away at coal's share of power generation. In 2010 coal-fired power plants supplied 75.6 percent of China's electricity; that dipped to 73.3 percent by 2013. In the past three years, China has added 64 gigawatts of hydropower, 46 Gw of wind power, 15 Gw of solar power, and 4 Gw of nuclear power, Li calculates. According to the EIA, renewable energy makes up 12 percent of China's total power production.

The government's most recent Five-Year Plan (2011-15) set a goal to improve energy efficiency, as measured by how much energy is consumed to produce the gross domestic product. So far, the amount of energy needed has declined 9 percent since 2010 (the government target is a 16 percent decline by 2015). Improving energy efficiency means less power will be needed from any source.
Coal in China is too abundant and easy to use to fade away entirely. Susannah Kroeber, an analyst with J Capital, expects coal to slide to 70 percent of China's total electricity mix by the end of the decade. But the day when coal accounts for just 50 percent of the energy produced is far off.
BOTTOM LINE -
The bottom line: China has curbed the growth of coal use from 9 percent in 2011 to just 2 percent in 2013.
Before it's here, it's on the Bloomberg Terminal.
LEARN MORE