China Fault Lines: Where a Hard Landing Could Be Exposed in 2015
Bloomberg News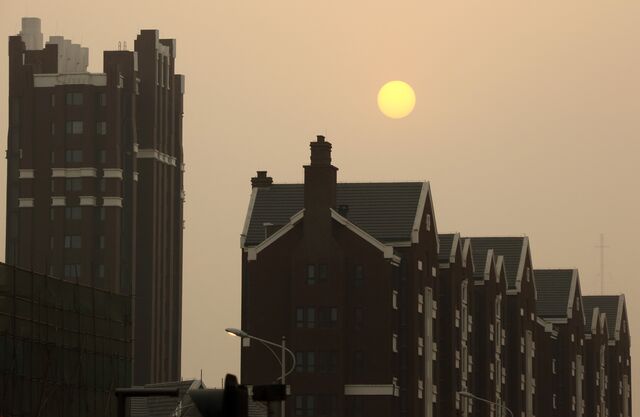 China's leaders are seeking to deleverage the economy without a hard landing. Six fault lines will be closely watched next year to gauge their success.
Risks to a soft-landing scenario include a credit crunch sparked by a shadow bank default or capital outflows, an external shock that undermines business confidence, a further slump in home sales, or rising U.S. interest rates, said economists and analysts interviewed by Bloomberg. While they don't expect such outcomes, these are the areas identified that could trigger a plunge in growth or systemic risk in the financial industry.
To ensure China achieves growth of about 7 percent next year as forecast by economists, rather than a dive to 5 percent or less, policy makers must navigate the following:
Credit Crunch
Three catalysts may potentially disrupt the supply of credit, triggering growth to slump to 4.5 percent, says the Conference Board's Beijing-based economist Andrew Polk.
The triumvirate of risks are financial contagion triggered by a large default in the shadow banking sector, a 10 percent plunge in property prices within three months, and a contraction in bank liquidity due to capital outflows in the face of tightening by the Federal Reserve.
Such events, the latter accompanied by a flat-footed response from the People's Bank of China, could trigger a credit squeeze that prevents banks from providing loans at the pace needed to support growth, says Polk.
"Keeping credit growth relatively healthy, while gradually reducing the pace of loan expansion, is a needle that financial regulators are trying to thread," said Polk. "But this avenue for disrupting economic growth remains a critical vulnerability."
In each case the most prominent early warning sign would likely be a sharp rise in interbank interest rates, said Polk.
Home Buyers Strike
A "buyers' strike" as an oversupply of homes collides with falling demand is at the top of David Loevinger's risk list.
"Just like in the U.S., expectations of sharper and more broadly-based declines in housing prices could become self-fulfilling," says Loevinger, former U.S. Treasury Department senior coordinator for China affairs and now an analyst at TCW Group Inc. in Los Angeles. "Home buyers could pull back, causing prices to fall further."
That in turn may cause developers to slow investment, complicating policy efforts to alleviate a slump, he said.
"If investors really believe that prices are going down, allowing them to leverage up or buy more of an asset won't have much impact," he says.
External Shock
An external shock from Europe or elsewhere that causes businesses in China to disinvest may combine with an unexpectedly large need to rollover bad loans, preventing China from generating enough new credit to maintain growth rates, says Michael Pettis, author of the 2013 book "Avoiding the Fall: China's Economic Restructuring."
"One of the biggest problems in the world right now is Europe," said Pettis, a finance professor at Peking University. "More problems coming out of Europe could create enough pessimism in China that private sector investors particularly in the tradable goods sector might just say it's not worth keeping these factories open."
Such an outcome, if met by a marked downturn in new credit, could spur a potentially "very brutal contraction," said Pettis, who is among the more bearish forecasters.
Growth averaging 3 to 4 percent annually is the "upper limit" achievable under the term of President Xi Jinping, expected to end in 2022, says Pettis.
This month's turmoil in Russia underscores the risks stemming from abroad. Foreign debt taken by Chinese corporations is "of course a risk in the current circumstances," said Alicia Garcia-Herrero, chief economist for emerging markets at Banco Bilbao Vizcaya Argentaria SA in Hong Kong. "But I still think that China is relatively insulated from the Russian event."
Policy Miscalculation
A miscalculation by policy makers may trigger a turning point that leads to bankruptcies and "massive job losses," says Xu Gao, chief economist with Everbright Securities Co. in Beijing.
"My concern is that policymakers may think it's OK to test the bottom line to see if we can tolerate even slower GDP growth," said Xu, who formerly worked for the World Bank. "If GDP growth continues to slow down another half or one percentage point, I think a lot of firms cannot live with that. They will decide to lay off their labor and some of them may even go bankrupt."
China may not be far from that "turning point" as credit constraints drag on infrastructure investment, and a lack of demand from the small- and medium-size enterprises to which policy makers are trying to direct more credit, said Xu.
Local Government Debt Shakeout
The finance ministry has told local governments they must detail all outstanding borrowings by Jan. 5 as policy makers determine which of the thousands of local government financing vehicles they'll support and which they won't. Those slapped with a no-support ruling may face a financing squeeze.
Changzhou Tianning Construction Development Co. became the first, on Dec. 11. The next day, it scrapped its planned yuan bond sale. This week, officials in Urumqi in the northwestern province of Xinjiang withdrew backing for a planned 1 billion yuan bond sale, another U-turn.
Authorities haven't provided sufficient details on how the unwinding of government support will play out and "given local governments' high financing demands, it's not unexpected they're at their wits end," said Sun Binbin, a Shanghai-based analyst at China Merchants Securities Co.
Not being able to sell bonds to finance projects and service some $90 billion-equivalent of debt coming due next year alone has investors nervous. Yields on five-year AA rated corporate yuan bonds touched 6.37 percent on Dec. 10, the highest since August.
Rising U.S. Interest Rates
An increase in U.S. interest rates will likely hurt Chinese companies that must repay or refinance $54 billion of dollar-denominated notes that fall due in 2015. Chinese companies have sold some $433 billion of bonds since the start of 2010, 18 times what was issued in the previous five years.
"The Chinese government hasn't prepared to accept a meaningful amount of credit events," said Kim Jin Ha, the global head of fixed income at Mirae Asset Investment Management Co. in Seoul. "The central bank may have to cut lending rates fiercely by 100 basis points and the reserve ratio by twice as much in any hard landing scenario."
Falling property prices have already made it hard for developers to refinance, and further industry weakness would add to the upheaval, said Kim.
Mainland and Hong Kong developers have more outstanding bonds than builders in any other Asian country, accounting for some $74 billion or 20 percent of all corporate notes on issue in the region as at the end of October, according to an estimate by Nikko Asset Management Co.
Tempering the gloom: China's leaders have plenty of policy room if the slowdown this year turns into a slump in 2015.
"Chinese leaders have been navigating reasonably well the shoals between a much needed adjustment in property and manufacturing investment while avoiding a disorderly deleveraging," said Loevinger. "The good news is Chinese leaders are well aware of the risks and still have tools in their policy box to address them."
— With assistance by Kevin Hamlin
Before it's here, it's on the Bloomberg Terminal.
LEARN MORE