Rick Perry, the Maccabees, and the Founding Fathers
The Texas governor notes the similarities between the Jewish religious holiday and the beginnings of our own country.
By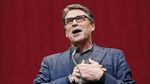 On Tuesday morning, former Florida Governor Jeb Bush announced his decision to "actively explore the possibility of running for President of the United States"—but not without extending a "Happy Hanukkah" greeting first. Not to be outdone, Texas Governor Rick Perry issued his own statement "on Chanukah." His remarks, with nary a mention of his own presidential ambitions, crackled with patriotic fire:
(The spelling, too, must be commended: "Chanukah," far more faithful than was Bush to Maccabee pronunciation.)
Daniel Boyarin, Taubman professor of Talmudic culture and rhetoric at the University of California-Berkeley, said that Perry more or less got his facts straight. "It's at such a level of generality," he told me by phone on Tuesday afternoon. "Yes, the Jews in the Maccabean time were fighting against the colonialist oppressor. Yes, the demonstrators of the Boston Tea Party were fighting against the colonialist oppressor. The few defeated the many in both cases. That's fair."
"I don't see any historical problem with what he's saying," Boyarin continued, adding, "Obviously there's terrible moral problems. But that's what politicians do—they exploit holidays. Italian congressmen, mayors, going out and eating latkes: this is an intensification in a particularly problematic constellation. A good old American practice of pandering to ethnic groups."
This isn't Perry's first spin around the menorah, either. Four years ago, on the first night of Chanukah, Perry danced hand-in-hand with Rabbi Shimon Lazaroff, Rabbi Chaim Lazaroff, Rabbi Yoseph Levertov, Rabbi Zev Johnson and Rabbi Yossi Lazaroff. The Rabbis told of miracles and the governor looked on in reverence. "God bless you, brother," he said.
Digging into specifics of the Chanukah story, however, a prospective presidential dreideler may be surprised to discover that the eight-day holiday was structured not by the Maccabees but by their heirs, the Hasmoneans. As historian Simon Schama said last week on All Things Considered, "they needed a major festival. This was kind of a politically instituted festival to rewrite a little bit the story by which they had come to power and particularly to emphasize the endless hostility between being Jewish and being Greek which in fact had not been the case for a long time."
Politics and festivals, indeed. L'chaim, Rick Perry.