GE's Immelt Sees 2015 Pivot on Industrial Shift With Alstom
Richard Clough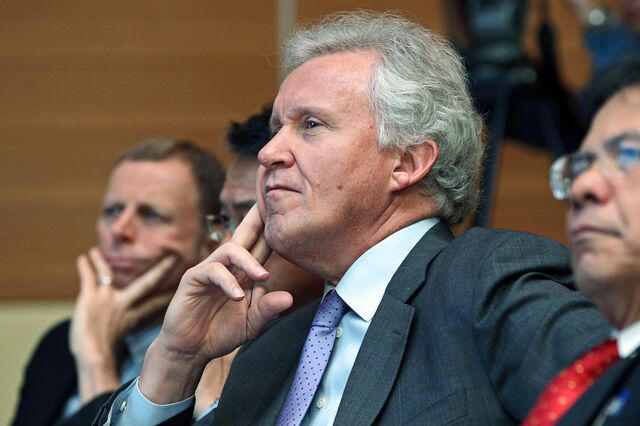 General Electric Co. forecast profit in its industrial units will rise at least 10 percent in 2015 while digesting the record Alstom SA energy acquisition and cutting costs to help blunt the effect of falling oil prices.
"We've done what we set out to do -- aggressive portfolio reshaping under way, good industrial execution," Chief Executive Officer Jeffrey Immelt said yesterday in a presentation from NBC's "Saturday Night Live" studio in New York.
With the Alstom deal and the pending spinoff of the North American consumer-lending operations now known as Synchrony Financial, 2015 will be a "pivot" year as GE accelerates expansion of its manufacturing businesses while shrinking the finance arm, Immelt told investors.
GE gave its first specific earnings-per-share forecast in about five years. Industrial profit will be about $1.10 to $1.20 a share, Immelt said, while the finance division's total will be about 60 cents. That amounts to operating earnings of $1.70 to $1.80 per share, compared with analysts' average estimate of $1.79 on sales of $150 billion, according to data compiled by Bloomberg.
GE shares fell 0.8 percent to $24.29 at 10:10 a.m. in New York. GE has underperformed its peers, falling 13 percent this year through yesterday compared with a 3.5 percent advance in the Standard & Poor's 500 Industrials Index.
Crude Markets
The rout in global crude markets creates "short-term industry challenges," said Immelt, who has been building up Fairfield, Connecticut-based GE's oil and gas business. As the company works to reduce expenses, GE forecasts operating profit and revenue to be little-changed or decline in that segment next year.
GE is appropriately hedged on oil prices, Immelt said today during an appearance on CNBC. He said the company will "go through a cycle in the short-term."
Falling oil prices should be positive for the company's aviation and transportation units, whose products include jet engines and diesel locomotives, Immelt said. With rail and air traffic strong, the U.S. economy still seems to be improving, Immelt said.
Immelt has been reducing GE's finance arm and bulking up industrial operations since GE Capital imperiled the parent company during the 2008-2009 financial crisis. Immelt has said he wants to boost the share of earnings coming from its manufacturing divisions, which make products ranging from medical scanners to jet engines, to 75 percent of the total.
That effort will continue in 2015 as GE closes its largest-ever acquisition, a 12.4 billion euro ($15.6 billion) deal for Alstom's energy assets. The purchase, agreed to in June, should close in "mid-2015," GE said.
To trim its finance operations, GE has sold off real estate assets and foreign-bank stakes, and in July the company held an initial public offering for Synchrony.
GE expects to return from $10 billion to $30 billion to investors in 2015, including about $9 billion in dividends. The company will close dispositions next year of about $2 billion to $4 billion, GE said.
Last week, GE raised its quarterly dividend 4.5 percent to 23 cents.
Before it's here, it's on the Bloomberg Terminal.
LEARN MORE