Swedish Finance Minister Says GDP Outlook May Need to Be Cut
Johan Carlstrom and Amanda Billner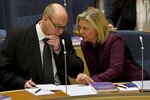 The Swedish government's growth forecast for the economy is probably too optimistic given the weakening outlook for the euro area, Finance Minister Magdalena Andersson said.
"We're of course affected by the fact that developments in Europe are weaker than we had thought earlier," she said yesterday in an interview at Harpsund, Sweden. "It will of course affect the forecast."
The barely three-month-old government, which faces a snap election in March after failing to win backing for its first budget, estimated in October economic growth will accelerate to 3 percent in 2015 from 2.1 percent this year. It also said then the tough economic climate meant it won't achieve a surplus target of 1 percent of gross domestic product until after 2018.
The previous administration, ousted in September elections, had predicted a 1 percent budget surplus of GDP by 2018.
The prospect of weaker Swedish growth comes as the central bank extends the period of time it plans to maintain its key rate at zero into the second half of 2016, from a previous forecast that targeted the middle of that year. It also said it is ready to deploy additional measures, which it may unveil at its next policy meeting.
The krona initially dropped as much as 0.5 percent against the euro before trading 0.2 percent stronger as of 9:57 a.m. in Stockholm.
Limited Room
Andersson said there's now "limited" room to stimulate the economy as public finances need to be improved.
"Automatic stabilizers will take effect if we end up with a worse development in the labor market than we had hoped," she said. "But the possibilities to take more discretionary measures are of course limited."
Andersson, a graduate of the Stockholm School of Economics who also attended Harvard, revealed the government's intention to review its GDP forecast as her administration fights for survival. The nation was thrown into a political crisis earlier this month when the anti-immigration Sweden Democrats used its seats in parliament to overthrow the coalition's budget proposal.
Sweden's opposition stands to win the next election, according to a Dec. 11 poll by Aftonbladet/Inizios. It showed the four-party coalition that ruled until September would get 43.4 percent, compared with 41.1 percent for the government. The Sweden Democrats, which other parties in parliament have refused to work with, would get 14 percent.
PM's Agenda
Prime Minister Stefan Loefven has indicated that even if his minority coalition wins in March, he'll need to delay planned measures including higher income taxes.
"We need to see at mid-year or early autumn what kind of possibilities we have," he said yesterday in an interview.
Governments seeking to adjust Sweden's tax code can only do so at the end of the calendar year, according to the country's laws. Still, if re-elected, Loefven would be able to scrap a reduction in payroll taxes for young people as soon as the second half of next year.
"The initiatives that we've presented in this budget, of course they remain. We will not change political direction," he said. "In the election manifesto that we will present, it will be clear what we would like to prioritize."
Before it's here, it's on the Bloomberg Terminal.
LEARN MORE