Putin, the Oligarch, and the Tax Dispute Over a $14 Million Fabergé Egg
By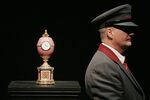 A sumptuous Fabergé egg, presented by Vladimir Putin to St. Petersburg's Hermitage Museum this month to mark the museum's 250th anniversary, has become the center of a tax dispute between Britain and a Russian oligarch.
The gold and jewel-encrusted egg, which once belonged to the Rothschild banking dynasty, was bought by billionaire Russian businessman Alexander Ivanov at a Christie's auction in London in 2007. The sale price of 8.9 million pounds ($14 million) was the highest ever paid for a lot at a Russian art auction. Now Britain claims Ivanov owes value-added taxes on the egg and other costly items he purchased in the country.
On Dec. 1, British customs inspectors raided a museum in Baden-Baden, Germany, that Ivanov established in 2009 to display his collection of Fabergé items. "The first thing they asked me was 'Where's the Rothschild egg?'" recalls Sergei Avtonoshkin, who runs the museum.
The egg wasn't there. Ivanov had been keeping it in Russia, according to Avtonoshkin, and never made it part of the German museum's collection. Ivanov donated it to the Russian government this year, and on Dec. 7 Putin presented it to the Hermitage at a gala celebration in St. Petersburg.
Ivanov contends he owes no tax on the egg because expensive items bought within the European Union generally aren't subject to value-added taxes if they are exported outside the EU. Avtonoshkin said he and Ivanov met with British customs officials earlier this year to explain the situation and thought the matter had been settled. "They told us the case was closed," he says. "The raid was completely unexpected."
Ivanov, who made his fortune importing computer equipment, told Bloomberg News in 2010 that he had amassed a $2 billion collection of Fabergé and other precious objects. The pièce de resistance was the Rothschild egg, made in 1902 as an engagement gift for Baron Edouard de Rothschild. Made of gold and pink enamel, it has a clock and a diamond-set cockerel that pops up every hour and flaps its wings.
Ivanov told Bloomberg he established the museum in Baden-Baden after bureaucratic obstacles prevented him from opening a museum in Moscow. Britain's Times newspaper says authorities there believe the Rothschild egg was sent to Germany, and therefore would have been subject to British value-added tax. Avtonoshkin, however, maintains that it has been kept in Ivanov's private collection in Moscow, with only temporary displays outside Russia.
Avtonoshkin says more than 40 British customs agents searched the museum during the raid earlier this month. They examined papers and computers but didn't take away any of the items on display.
Bloomberg Businessweek was unable to reach Ivanov, but he told the Moscow Times that the raid was a politically motivated effort to disrupt the plan to present the Rothschild egg to the Hermitage. Britain's pursuit of Ivanov is unfair, Avtonoshkin says: "He is a patriot."
Before it's here, it's on the Bloomberg Terminal.
LEARN MORE