China's Factory Gauge Declines as Stimulus Case Builds: Economy
Bloomberg News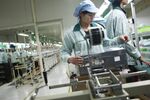 A Chinese factory gauge fell to a seven-month low in December even after efforts by the central bank to ease monetary conditions, suggesting more stimulus will be needed to halt the slowdown.
The preliminary Purchasing Managers' Index from HSBC Holdings Plc and Markit Economics fell to 49.5, missing the median estimate of 49.8 in a Bloomberg survey and lower than last month's 50.0. Numbers below 50 indicate contraction.
The world's second-largest economy will see its 2013 gross domestic product revised up by a bit more than 3 percent, the statistics office said today, reflecting improved services data. While old growth drivers such as real estate investment and textile exports are slowing, a measure of new areas including private-enterprise output and medicine consumption is faring better, data compiled by Bloomberg shows.
"They are moving to more of a services-based consumption model and that's a slower growth model than the hyper growth of manufacturing that led exports and investment," Stephen Roach, a senior fellow at Yale University and former non-executive chairman for Morgan Stanley in Asia, said in an interview with Angie Lau today on Bloomberg Television in Hong Kong.
Asian stocks fell, with the regional index at a two-month low, as the data and oil's slump stoked concern the global economy is faltering. China's interest-rate swap erased a gain after the PMI report. The Shanghai Composite Index rose.
"The data highlights intensifying downward pressure on the manufacturing sector," said Dariusz Kowalczyk, an economist at Credit Agricole CIB in Hong Kong. "The situation calls for action from policy makers to ensure that the soft landing continues and that the slowdown does not become too deep."
Slowing Growth
China is forecast to lower banks' required reserve ratio to 19.5 percent in the first quarter of 2015 and to 19 percent in the second quarter, according to a survey by Bloomberg News.
Separately, foreign direct investment surged 22.2 percent in November from a year earlier, a report from the Ministry of Commerce showed today. For the January-through-November period, investment climbed 0.7 percent from a year earlier.
China's economy slowed in November as factory shutdowns exacerbated weaker demand. Bloomberg's gross domestic product tracker came in at 6.78 percent year-on-year in November, down from 6.91 percent in October and a fourth month below 7 percent, according to a preliminary reading.
"The economy is likely to head to another deceleration, even with a modest campaign of central government driven infrastructure investment, over the coming quarters," said Tao Dong, chief regional economist for Asia excluding Japan at Credit Suisse Group AG in Hong Kong. "Still, we expect this to be a mild deceleration."
Still Competitive
China's manufacturing industry remains "highly competitive" internationally and will remain so with labor costs set to be less than 12 percent of those in the U.S. even in 2020, according to a report released by the London-based Economist Intelligence Unit.
Manufacturing labor costs in the inland provinces of Jiangxi, Henan and Hebei will be less than $4.50 an hour in 2020, helping to sustain competitiveness even as costs rise in traditional manufacturing hubs including Guangdong, Jiangsu and Zhejiang provinces on China's east coast, the report said.
Price competitiveness alone won't be enough for China to maintain its global manufacturing predominance and it needs to innovate more and shift into higher value-added products, the report said.
The Flash PMI is typically based on 85 percent to 90 percent of responses to surveys sent to purchasing managers at more than 420 companies. Measures for output, new orders, employment and input and output prices all declined, the report showed.
— With assistance by Xiaoqing Pi, and Kevin Hamlin
Before it's here, it's on the Bloomberg Terminal.
LEARN MORE