Berkshire to Hold Common Stake in Burger King Parent
Noah Buhayar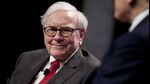 Warren Buffett's Berkshire Hathaway Inc. will get common stock in Restaurant Brands International Inc., the new parent company for the Burger King and Tim Hortons fast-food chains.
Buffett helped finance the merger, which was announced in August. He also got a warrant to buy common stock of 1.75 percent of the combined business, or about 8.4 million shares, at a penny a piece, according to a filing that month. Exercising that right will bring Berkshire's Restaurant Brands holding to about 4.18 percent of the outstanding shares, according to a Dec. 12 statement.
Shares of the fast-food chains were converted into Restaurant Brands stock when the deal was completed last week. Berkshire intends to use its warrant "promptly" after the deal, Restaurant Brands said in a filing today.
Restaurant Brands rose 11 cents to $35.52 at 1:41 p.m. in New York.
Buffett's Omaha, Nebraska-based company also holds $3 billion of preferred shares in Restaurant Brands and earns 9 percent annual interest on that investment.
3G Capital engineered the Burger King-Tim Hortons deal and brought on Buffett to help with the financing. The billionaire Berkshire chairman teamed up the buyout firm to take over ketchup maker H.J. Heinz Co. in 2013.
(Corrects story originally published Dec. 15 to add word "outstanding" in second paragraph, remove professor's comment, valuation estimate.)
Before it's here, it's on the Bloomberg Terminal.
LEARN MORE