Gazprom's Creditors Undeterred by Putin's Sanctions
Sally Bakewell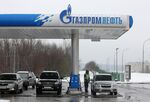 For all the penalties slapped on Russia, some of the nation's biggest non-sanctioned companies are still able to take loans from European and American banks.
Even as U.S. and European syndicated lending to Russian companies plunged 44 percent this year, OAO Gazprom, the world's biggest natural-gas company by output, took a 390 million-euro ($485 million) loan from Italy's UniCredit SpA this month. Citigroup Inc., JPMorgan Chase & Co. and six other banks extended credit to Bank Otkritie Financial Corp.
Sanctions over President Vladimir Putin's support for pro-Russian separatists in Ukraine have slowed but not stopped bank lending, and interest payments in some cases are cheaper than elsewhere in the region. Interest on Bank Otkritie's loan is 2.5 percentage points over the London interbank offered rate, compared with a 2.6 percentage point average for Europe, the Middle East and Africa in the past month, according to data compiled by Bloomberg as of Dec. 12.
"The trickle of lending will continue" until sanctions are revised, Ivan Mazalov, who helps manage more than $3 billion as a director of Prosperity Capital Management in Moscow, said by phone.
International loans to Russian companies have reached $883 million this month, the most since August, data compiled by Bloomberg show.
Gold Miners
While Gazprom's oil unit OAO Gazprom Neft is off limits for banks, the natural-gas producer overall isn't named on U.S. or European financial embargo lists. The U.S. congress Dec. 12 voted for tougher sanctions on Russia that would require penalties on Gazprom if the state-controlled company withholds gas supplies to other European nations.
Bank Otkritie will use its $120 million loan to finance gold miners, according to a Nov. 12 statement on its website. OAO Sovcomflot gained a $319 million, 10-year loan that will pay for two new liquefied natural gas tankers, according to a Dec. 7 website statement.
Deals for non-sanctioned companies that are "absolutely straight forward," signed against the delivery of products are more likely to get through compliance, said Philip Hanson, an associate fellow at the Chatham House research group in London. "Then the banks on the western side think it worthwhile to go through all the checking that's needed to make sure it isn't infringing the sanctions."
Spokesmen at Citigroup, JPMorgan and UniCredit declined to comment. Sovcomflot didn't have an immediate comment when contacted by phone. Calls and an e-mail to Gazprom's press office were unanswered.
Sanctions Effect
Otkritie's loan succeeded in part because of "our long-term cooperation with lenders in different business areas," Yuri Lekarev, Managing Director of international funding at Bank Otkritie Financial Corp., said by e-mail Dec. 12.
With reduced foreign capital available, companies have been raising money locally and seeking government funding. Unable to borrow internationally because of sanctions, oil producer OAO Rosneft sold 625 billion rubles ($10.7 billion) of six- and 10-year bonds on Dec. 11 in an operation based on central bank liquidity injections.
Sanctions are having a deeper effect on Russia amid the plunging price of oil, which along with natural gas makes up about 50 percent of Russia's budget revenue. The government expects the economy to contract by 0.8 percent in 2015.
Russian Foreign Minister Sergei Lavrov and U.S. Secretary of State John Kerry discussed the situation in Ukraine at a meeting in Rome yesterday, the Russian ministry said in a statement on its website.
Ruble's Tumble
The cost of insuring Russian sovereign debt using credit-default swaps rose for a 16th day, the longest streak on record, according to data compiled by Bloomberg. The ruble tumbled for a sixth day, crossing 60 per dollar for the first time. The currency is on course for its worst year since the nation's 1998 default.
"It's going to continue to be pretty grim, with a continued trickle of exceptions," Chatham House's Hanson said."It's special circumstances and there aren't that many of these special circumstances."
Before it's here, it's on the Bloomberg Terminal.
LEARN MORE