politics
Would A 'Top-2' Primary Election Help Reduce Gridlock?
Advocates say the system would empower more people to participate in the political process.
By
Some ideas offered to curb the partisan gridlock that envelops Congress involve changing how voters select the candidates who appear on the November general-election ballots.
One proposal is to eliminate separate party primaries–registered Democrats voting for Democrats, and registered Republicans voting for Republicans—and adopt a so-called "Top-2" primary, under which candidates of all partisan stripes would run on a single ballot. Then the top two vote-getters in the primary would advance to the November election, regardless of their party preference.
This system, the idea goes, would produce less ideologically rigid representatives because the entire electorate would be eligible to participate, and candidates would have an incentive to reach out to a larger swath of voters. It might also increase voter participation.
"I actually think the Top-2 primary system probably forces even deep-blue and deep-red districts to actually consider the value of working with the other side of the aisle," said Democratic Representative Derek Kilmer of Washington state, which uses that primary. Kilmer spoke at a Bloomberg breakfast last week.
A Top-2 primary "would prevent a hard-right or hard-left candidate from gaining office with the support of just a sliver of the voters of the vastly diminished primary electorate; to finish in the top two, candidates from either party would have to reach out to the broad middle," Senator Chuck Schumer, a New York Democrat, said in a New York Times op-ed in July.
Yet there's very limited evidence to determine its rate of success or failure. Just California, Louisiana, and Washington use a version of the Top-2 primary, and California, the nation's biggest state, began using the system only in 2012.
It might not even matter. 
"There's not much relationship between the rules of the primary and the outcomes that the primaries are actually thought to produce," John Sides, a political scientist at George Washington University, said Thursday at a panel on primaries that was sponsored by the National Conference of State Legislatures.
Most voters can't distinguish between moderates and more ideologically extreme candidates. Before the 2012 Top-2 primary in California, political scientists at the University of California at Berkeley conducted an experiment with a sample of voters. Half of them got the Top-2 ballot and the other half got a ballot as it would have existed under the old system of separate Democratic and Republican primaries.
Moderate candidates "fared no better under the open primary. The Top-2 primary failed to improve moderates' electoral fortunes because of voters' scant knowledge of the candidates," the political scientists wrote. Voters "largely failed to discern ideological differences between extreme and moderate candidates of the same party, particularly among non-incumbents," they said.
The Top-2 primary may have contributed to the defeat of 20-term California Democratic congressman Pete Stark in the 2012 election. Stark, a staunch liberal with a history of making controversial statements, led another Democrat, Eric Swalwell, by six points in the first-round primary in the state's 15th District, near San Francisco. Stark wasn't helped by the reconfiguration of the district's boundaries during the redistricting process. Swalwell won the general election by four points. He probably won some votes from Republicans and independents who disliked Stark.
But this year in California's Republican-leaning 4th District, Republican Art Moore ran as a more moderate alternative to conservative Republican congressman Tom McClintock, and lost by 20 percentage points. 
In Washington's 4th District this year, Republican Dan Newhouse, a former state legislator who was agriculture director to Democratic governor Christine Gregoire, won the November election by 2 percentage points over Republican Clint Dider, who was aligned with the limited-government Tea Party movement. Didier led Newhouse by six points in the first-round primary in August. Perhaps Newhouse is a notch less conservative than Didier, though any differences in opinion may have been indistinguishable to voters. Newhouse was backed by retiring Republican congressman Doc Hastings. 
From the 1930s until the early 2000s, Washington state used a so-called blanket primary, similar to the Top 2. Under that scheme, all candidates appeared on the same ballot, and the candidate from each political party who received the most votes in the primary advanced to the general election. In 2003, a federal appeals court ruled that this was as an unconstitutional violation of the political parties' right to free association. After using the pick-a-party primary in the 2004 and 2006 elections, the state used the Top-2 primary for the first time in the 2008 election. All candidates on the ballot are identified by party preference, as this sample 2014 ballot from the state's Clark County shows: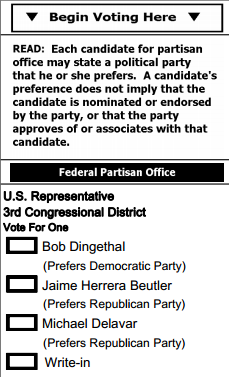 "It might have a moderating influence here, but since Washington has had a version of Top 2 since the 1930s, it's not possible to isolate a moderating effect," Todd Donovan, a political scientist at Western Washington University, said in an e-mail message. The state has a history of electing people with bipartisan appeal, like Democratic Senator Scoop Jackson, Democratic Governor Dixy Lee Ray, and Republican Senators Dan Evans and Slade Gorton, he said.
Louisiana differs from California and Washington in that it holds its all-candidate, single-ballot primary on the national Election Day. A candidate who wins a majority of all votes is automatically elected; otherwise, the top two vote-getters compete in a December runoff.
Jon Cox, a Utah Republican state representative, said at Thursday's NCSL forum that a Top-2 primary could boost voter participation in states like his. A lack of competitive elections was the number one reason for the poor turnout in his state, he said.
"In a state like Utah that's predominantly a one-party state, a Republican-controlled state, I could see a Top-2 system definitely increasing general election turnout," Cox said. 
The prospects of other states adopting a Top-2 primary aren't good, though. State parties and allied interest groups are reluctant to agree to changes that could weaken their role in selecting candidates. It's also tough to motivate voters on questions of political process: in last month's election, a Top-2 primary in Oregon was rejected by more than a 2-to-1 ratio.
Before it's here, it's on the Bloomberg Terminal.
LEARN MORE