Why a 'Democratic Socialist' Will Lead Democrats on the Senate Budget Committee
The rise of Bernie Sanders, Sherrod Brown, and Maria Cantwell.
By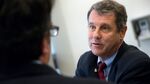 It was the news Wall Street had been dreading for two years. Ohio Senator Sherrod Brown, who's midway into his second term, would become the ranking Democrat on the Banking Committee. Instead of someone like New York Senator Chuck Schumer, whom bankers could do business with, the plum job went to a progressive who wanted to break up the largest financial institutions. "He's on the record that we haven't fixed too-big-to-fail and more needs to be done," warned Jaret Seiberg, an analyst at a unit of Guggenheim Securities LLC, in a 2013 Bloomberg News interview.
Democrats lost the Senate in November, so the doomsday scenario–Brown as chairman–would not be realized in 2015. Instead, it was one of several examples of the post-election Democratic minority moving to the left. Vermont Senator Bernie Sanders, an independent and "Democratic socialist" who caucuses with the Democrats, will replace Washington Senator Patty Murray at the Budget table. Over at the Energy Committee, Washington Senator Maria Cantwell will replace defeated Louisiana Senator Mary Landrieu. In the waning days of her campaign, Landrieu had warned voters that a supporter of "windmills and alternative energy" might get that job–and so it came to pass.
Brown's promotion represents a break from the recent history of Banking, and a return to an older liberal tradition. "The Tim Johnson chairmanship of Banking–South Dakota is a haven for bank back offices because of lax state banking regulation–is something of an exception," wrote Robert Kuttner, a progressive author and journalist who co-founded The American Prospect, in an email. "[Connecticut Senator] Chris Dodd was basically a centrist on financial issues who was thrust into the role of reformer by circumstances. On the Democratic side, before Dodd we had [Maryland Senator Paul] Sarbanes, [Michigan Senator] Riegle and [Wisconsin Senator William] Proxmire (for whom I worked), all progressives. So Sherrod Brown is entirely consistent with that lineage. Too bad he's not chair, but we'll see some interesting pushback as Republicans try to further gut Dodd-Frank."
For progressives, the Cantwell and Sanders moves are even clearer victories. Cantwell's promotion ends the alliance of interests between Republicans and Democrats who were, typically, from energy-producing states. And for 12 years, including most of the Reid majority's lifespan, the top Democrat on Budget had been North Dakota Senator Kent Conrad. That meant that a key negotiator for Democrats, with a large megaphone, was a deficit hawk who wanted to deal with moderate Republicans. Murray's reign on the committee, which led to budget agreements that gave away little to the GOP, was more satisfying for progressives. And she's been replaced by a man who was so incensed by the winter 2010 tax deal between the Obama White House and the lame duck Congress that he gave an eight-hour floor speech, later published between covers by the progressive Nation Books.
"There is a war going on in this country, and I am not talking about the war in Iraq or the war in Afghanistan," said Sanders in that speech. "I am talking about a war being waged by some of the wealthiest and most powerful people in this country against the working families of the United States. Against the disappearing and shrinking middle class of our country. The billionaires of America are on the war path. They want more, and more, and more. And that has everything to do with this agreement reached between the Republicans and the president."
Not quite the sentiments of Kent Conrad. "It sounds like deliberately or inadvertently, Democrats are moving to the left," said Stan Collender, a Budget Committee staff veteran and founder of the Capital Gains and Games blog. "Maybe that's all that left. This sets up a battle between competing philosophies, maybe one that's been in the making since the Tea Party emerged and Republicans moved far to the right."
That would mean a little less compromise. It would also, according to Collender, be "great for budget lobbyists whose services are going to be even more in demand."