Welcome to the Democrats' Post-Obama Family Feud
The progressive movement is in search of a leader and a voice to pressure Hillary Clinton to embrace populist economic issues.
By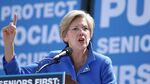 It's turning out to be an awkward week for the Dean family. As former Vermont Governor Howard Dean announced Wednesday that he would back a Hillary Clinton presidential bid, the progressive group he founded declared that they were launching a major campaign to coax Massachusetts Senator Elizabeth Warren into the race.
"Some of the other candidates may not be happy about this but they'll thank us for it later," Jim Dean, executive director of Democracy for America, and Howard's brother, said of the effort to woo Warren. "Part of this is trying to wake the party up." His position couldn't be more different than his brother's, who praised Clinton as a "mature, seasoned, thoughtful leader" in an editorial published by Politico that morning.
As the Jims of the Democratic world are clamoring for an alternative to Clinton, the Howards are racing to line up behind her even though she hasn't decided whether to run. The two powerful women at the center of the discontent, however, are little more than indicators of a far broader family feud over the Democratic party's future heading into 2016. On one side of the debate are strategists and officials, including some aligned with Clinton, who believe their path to the White House in the post-Obama era rests with wooing centrist, working class voters.  To progressive activists, union members, and other parts of the "professional left," as an Obama aide once called them, victory lies in running on an aggressive, populist economic message. 
"Some of the jockeying now is trying to strategically make sure Hillary understands that she can't be an economic moderate without generating pushback," said Andy Stern, the former head of the Service Employees International Union. "Progressives are anxious that her policies, not her heart, will be too generous toward Wall Street."
That debate will take center stage this weekend, when liberal activists gather in Washington for RootsCamp, an annual "unconference" that brings thousands of progressives to the Washington Convention Center. A major topic in the hallways will be the announcement by liberal groups this week of plans to spend more than a million dollars, including opening offices in the early primary states of Iowa and New Hampshire, trying to convince beloved economic populist Warren to challenge Clinton. Despite Warren's insistent refrain that she is not running for president, activists see a glimmer of hope. "She's been very consistent in her statements saying she is not running present tense," said Neil Sroka, a spokesman for Democracy for America. "Tense matters."
For now, though, progressives are a movement in search of a leader. With Clinton's take-over of the Democratic party near complete, there's no national figure willing to take up their cry. Other than Warren, former Wisconsin Senator Russ Feingold, known for his principled stances against big money in politics, has a government job already—working for the State Department that Clinton used to run. Maryland Governor Martin O'Malley's political clout was weakened by the midterm loss of his lieutenant governor in the race to succeed him and the governor has pulled staff out of Iowa. Even Al Sharpton, who hammered Clinton for taking weeks to comments on the racially charged riots in Ferguson, Mo., put out a press release to brag about his birthday call from Clinton. 
Of course, Clinton could decide not to run, Warren could change her mind, or any number of unpredictable events that tend to scramble presidential races could upend the Democratic field. But, so far, there's little sign that many Democrats are thirsting for a Clinton alternative. In Iowa, for instance, she is the top candidate for 53 percent of likely Democratic caucusgoers, according to a Bloomberg Politics/Des Moines Register poll. That's roughly five times bigger than Warren, who followed with 10 percent support as a first pick of party insiders. Vermont Senator Bernie Sanders, an independent, and former Virginia Democratic Senator Jim Webb, who have expressed interest in running, trailed behind at three and one percent, respectively. "If she chooses to run, and I hope she does, I think she will have no significant opposition," said Ted Strickland, the former Ohio governor who now heads the Center for American Progress Action Fund, the advocacy arm of a liberal think tank. "I'm not saying there won't be a primary contest but I don't see any reasonable possibility that she could be denied the Democratic nomination."
Strickland, along with other Clinton-backers, sees commercial motives in the draft-Warren effort. "If someone has said they are not a candidate for president, period, is it respectful or disrespectful to use that person's name for their own purposes?" asked Des Moines lawyer Jerry Crawford, who co-chaired Clinton's 2008 campaign in Iowa and helps lead Ready for Hillary, a group laying the groundwork for a campaign, in the state. "If Secretary Clinton said she wasn't running, I wouldn't be out there disrespecting her by engaging in a draft movement."
Unlike the Tea Party, which remains a powerful force in the Republican party, the influence of progressive groups has waned during the Obama years. With the Senate soon to be in Republican control, progressives aspire to become their own power center that can force Democrats to stand strong on economic issues. By aligning themselves with Warren, who's an outspoken advocate of Wall Street regulation, groups like MoveOn not only grow membership lists and bank accounts, they also raise their profile. "Could there be some self-serving motives behind this? Of course," said Strickland. "If you're not engaged in some kind of specific effort, it's a little more difficult to keep support coming in."
While Warren is their billboard, the real target is likely Clinton. A history of pro-business economic policies and a roster of rich Wall Street donors make progressive and union activists anxious about the direction of her leadership and political loyalties. Though she has yet to announce a campaign, they're trying to send the message that their concerns should not be taken for granted.  "I think the fact that people are encouraging a person who probably isn't going to run may just be a manifestation of wanting to make clear that Secretary Clinton is not going to walk in and assume there's a coronation," said Stern. "She's going to have to work it policy-wise, particularly on the economy"
That's no surprise, given that most Democrats have already turned their attention to Clinton. Operatives are jockeying for jobs. Donors are eager to open their wallets. And politicians are rushing to position themselves for a campaign that doesn't yet exist. Why should her progressive opposition be any different?