Uber Is Now a Pawn in China's Internet Taxi War
Uber has drawn an investment from Baidu, the last of the three big Chinese Internet conglomerates to put money into a car service app
By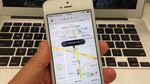 Uber dominates any discussion about smartphone car services in the U.S., but the company is a bit player in the race to win over Chinese taxi riders. By taking a new investment from Baidu that could be worth as much as $600 million, Uber is hoping for help in catching up with local competitors before it's too late.
Baidu is the last of the three major Chinese consumer Internet conglomerates to invest in a ride-sharing app. Tencent's money is on Didi Dache. Alibaba has backed Kuaidi Dache, while also investing in Uber's main rival in the U.S.—Lyft. For now, Lyft has no presence in China, and Didi Dache and Kuaidi Dache have cornered the market, controlling about 99 percent.
Uber operates in only a handful of Chinese cities but is quite clearly looking to change that. It mentioned Asian expansion as one destination for the $1.2 billion it raised earlier this month. Postings on its website seek applications from fluent Mandarin speakers who would be willing to move to cities in China where Uber has no presence and be responsible for "quickly figuring out who and what make that city run, and then building a new business from scratch—in a matter of weeks—which sets Uber up for long-term success." But Uber is unlikely to gain traction in China from the pluck of a few adventurous new employees alone, says Gil Luria of Wedbush Securities. Given both the cultural gap and the Chinese government's role in the country's economy, an advocate is essential. "Being successful in China requires a local partner," says Luria. "That's been the reality for a while."
Luckily for Uber, the giants of the Chinese Internet industry have been expressing an increasing interest in American technology companies. Tencent has invested in a range of gaming and digital media companies, including Whisper, the anonymous social network. Alibaba has also primarily focused on media outfits. Baidu has made fewer investments, but it did recently put money into IndoorAtlas, a company developing location technology that works indoors. 
The mission creep of Chinese Internet companies mirrors an ongoing phenomenon in Silicon Valley, where Google is investing in driverless cars (and Uber), Facebook is building virtual-reality headsets, and Amazon is building businesses on selling strange hardware and cloud computing services. Baidu has been falling behind its rivals by not working on a car service app. Throwing its lot in with Uber is a first step toward joining the local car services before they cement the advantage they've gained from their head start. Uber and Baidu have a lot of catching up to do.
Before it's here, it's on the Bloomberg Terminal.
LEARN MORE