Winter Is Coming. So Are Ukraine's Refugees
Half a million Ukrainians have been left to fend for themselves or rely on help from volunteers
By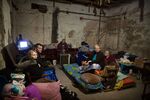 Two years ago, Volodymir Rozhkov, a real estate developer in Kharkiv, Ukraine's second-largest city, bought a long-abandoned Soviet-era children's camp called Romashka in a nearby park. He wanted to redevelop it into a recreational area, complete with a cafe. Then the war came. People started fleeing the war zone, either to other parts of Ukraine or to Russia, depending on their political leanings or family connections. The United Nations High Commissioner for Refugees says 490,000 Ukrainians have registered as internally displaced persons (IDPs) in Ukraine, while 430,000 have sought asylum or other forms of legal status in Russia.
In May, Rozhkov invited one displaced woman with her children to take shelter in his camp. Soon there were 300 displaced people jammed into the camp's only habitable building. A total of 2,000 have since passed through Romashka, says Oksana, Rozhkov's wife. As snow began to fall, about 120 people, mostly seniors, women, and children, have remained in the camp's cramped rooms without central heating or indoor toilets. "I work flat out and don't earn any money," says Rozhkov. He was inspired to volunteer by the protests in Kiev, where ordinary Ukrainians risked their lives to topple the previous government.
The Rozhkovs have funded the camp out of their own pockets and from donations collected with the help of Facebook posts. Notably absent from the relief effort is the central government in Kiev, which is so strapped for cash that it must reduce expenses drastically to prevent economic collapse this winter. That means the displaced have to fend for themselves or rely on volunteers and local government. The Kharkiv region has received almost a quarter of all the displaced, says Oleksandr Volobuyev, a local official in charge of helping them. He estimates that his office has found shelter for about 35,000 people in private homes, hotels, dormitories, and other places. Asked what his budget is, he says: "Zero. No money is seen coming from the central government." A spokesman for the Ministry of Emergencies couldn't be reached for comment.
One of the largest rooms at Romashka is occupied by Yelena Ponomaryova and seven female relatives. She's a maid from the village of Vesela Hora, outside the rebel stronghold of Luhansk. She says she was coping with the daily shelling until a missile went through the roof of her house, rendering it uninhabitable in winter. Her husband remains in the village guarding a candy factory. His salary is the only income for Ponomaryova, who shares it with less fortunate relatives. As an official IDP, she is entitled to a monthly payment of $57 from the social security office, but when she went to collect it, officials told her the payments wouldn't be available for at least another month.
"No one here in the camp has received any money from the state," says Irina, a displaced woman from Donetsk, who lives in a room almost entirely taken up by a modest bed she shares with her 6-year-old son. She doesn't give her last name, because her husband remains in war-torn Donetsk looking after his 80-year-old father.
Oleksandr Retivov, a librarian from Stanytsia Luhanska, a town near rebel-held Luhansk, eventually found himself stranded in Kharkiv without permanent accommodation, work, or any assistance. Many Ukrainians have grown wary of the displaced. They accuse them—especially the men—of refusing to fight. Denying them accommodation, even when they offer to pay, is common. Retivov, who was tortured for a month in Luhansk for expressing pro-Ukrainian sentiments on Facebook, had to move to Odessa. But he has no permanent place there either, and he can't get his mother out of the war zone. "We talk on the phone daily, and every time she tells me about someone else who has died," he says.
BOTTOM LINE -
The bottom line: More than 900,000 Ukrainians have fled the fighting: Often those in Ukraine rely on volunteers.
Before it's here, it's on the Bloomberg Terminal.
LEARN MORE