Weight Watchers Admits How Tough It Is to Slim Down
The king of weight loss tries a new approach to stave off Nike and Fitbit
by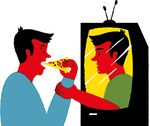 In the new commercial for Weight Watchers, a woman listlessly eats cheese puffs while sitting in an empty bathtub. An anxious-looking man shovels pigs in blankets into his mouth during a party, and a woman licks an ice cream cone as she cries in the rain. They eat their feelings as a man sings, "If you're sad and you know it, eat a snack!" to the tune of If You're Happy and You Know It.
The campaign, from advertising firm Wieden + Kennedy, marks the first time Weight Watchers—or any top U.S. diet program—has focused exclusively on the challenges of losing weight. "Our relationship with food is complicated," a website for the commercial points out. "And Weight Watchers is here to help with the hard part."
This is also the first time in a while that Weight Watchers hasn't enlisted a star spokesperson to make its pitch. "When we used celebrities and these before-and-after techniques, we were implying that losing weight was easy," says Lesya Lysyj, president of Weight Watchers North America. The company, founded in 1963, has been using celebrities since 1984, when the actress Lynn Redgrave became its first spokeswoman. Since then, it's turned to Duchess Sarah Ferguson, singer Jennifer Hudson, and actress Jenny McCarthy. Valerie Bertinelli once shilled for Weight Watchers' main competitor, Jenny Craig, and Marie Osmond is currently touting the benefits of Nutrisystem.
Only last year, Weight Watchers was featuring a slimmed-down Jessica Simpson. When she used the program, she claimed, "I started losing weight right away." The real experience, of course, is nothing like that. "When we dug deeper with consumers," Lysyj says, "we found there was a conflict between what they aspired to eat and how they really did eat."
The U.S. Centers for Disease Control and Prevention says 69 percent of American adults are overweight or obese. It's pretty evenly split between women and men. By relying on female celebrities, Weight Watchers found it was inadvertently cutting out half the population. Despite a $10 million male-focused campaign that aired during the 2011 NBA playoffs, Weight Watchers' base is still largely female. But even the lady customers weren't paying attention to famous spokespeople. Last year, Jenny Craig stopped using stars after it discovered people couldn't remember which program they'd endorsed. It's now highlighting the food—chocolate cake! spaghetti with meatballs!—people can eat on its regime.
Weight Watchers went a blunter route. Wieden + Kennedy has planned other ads that take on challenges ranging from food cravings to willpower struggles, which Weight Watchers has historically glossed over. Weight Watchers is still the most popular program in the $38 billion weight-loss industry, with more than 2 million users paying between $20 and $70 a month to take part. According to food-marketing researcher Packaged Facts, about 14 percent of dieters are in the program at any given time, vs. only 1.8 percent in Jenny Craig.
Yet Weight Watchers is losing dieters, and revenue has declined for seven straight quarters. Some of that can be attributed to fitness monitors like the Nike+ FuelBand and Fitbit, which offer $100 technology to log caloric and nutritional intake, making it easier for people to see how they're eating. Forty million people have used MyFitnessPal, the most popular calorie-tracking app, since its introduction in 2005.
These devices cost much less than Weight Watchers. A Duke University study released earlier this year found the program costs the average user about $377 a year and results in a weight loss of only 5 pounds. (Jenny Craig's averages, per the same study: $2,500 for 16 pounds.) "Expense is often the first reason people give for why they gave up on a weight-loss program," says Kathleen Ashton, a psychologist at the Cleveland Clinic's Bariatric and Metabolic Institute. "They also expect to lose too much weight too quickly and get frustrated when that doesn't happen."
To address that, Weight Watchers will soon offer Web coaching sessions, with experts available online 24 hours a day. Weekly in-person meetings will remain the program's centerpiece, but the company expects its digital initiatives to appeal to people who can't seem to lose weight on their own, no matter how many steps their fitness bracelets record.
And it won't hire any more stars—for the time being, at least. "I'm not saying we'd never use one in the future. A celebrity can add a nice cherry on the cake," Lysyj says. "Or maybe I should say a cherry on something healthier, like an apple."
Before it's here, it's on the Bloomberg Terminal.
LEARN MORE