Ukraine Strives to Maintain Fragile Truce After Day of Peace
Volodymyr Verbyany, Kateryna Choursina and Rebecca Christie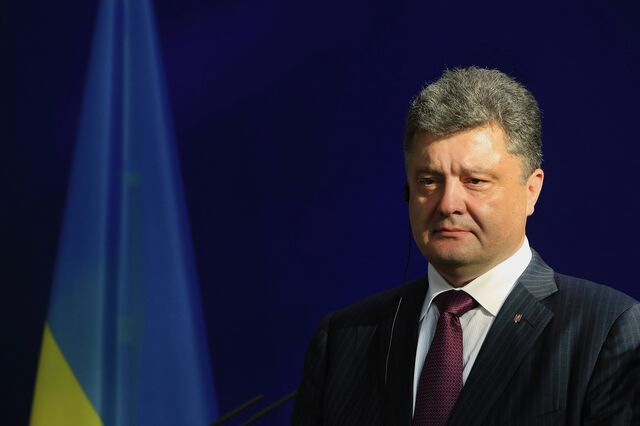 A fragile truce is holding in Ukraine after what President Petro Poroshenko called its first full day of peace since May.
The truce is "gradually" taking hold on both sides of the conflict on Ukraine's mainland, Ukrainian military spokesman Andriy Lysenko said in Kiev today. At the same time, the European Union considering deepening sanctions tied to Crimea to make it clear that it doesn't accept President Vladimir Putin's March annexation of the Black Sea peninsula, Danish Foreign Minister Martin Lidegaard said.
"This is only 24 hours," Poroshenko said at an event in Sydney today. "Everything is so fragile, but I pray that we could continue this process."
Ukraine is trying to halt hostilities and start new talks with the pro-Russian insurgents it's fighting in the Donetsk and Luhansk regions. The crisis has triggered Russia's worst standoff since the Cold War with the U.S. and the European Union. Russia denies involvement.
Russian Foreign Minister Sergei Lavrov said "a chance has emerged to restore peace in Ukraine" with the establishment of the truce, according to Interfax news service.
Talks are taking place for a meeting of the contact group of representatives of Ukraine, the self-proclaimed Donetsk and Luhansk People's Republics and the Organization of Security and Cooperation in Europe. Russia is working to "achieve such an agreement as soon as possible," Lavrov said. He later spoke with German Foreign Minister Frank-Walter Steinmeier about Ukraine, the Ministry said in a statement from Moscow.
Refugee Exodus
Germany still wants a partnership with Russia, Chancellor Angela Merkel said at a meeting of the Christian Social Union party in Nuremberg, even though she accused Russia of committing "a grave breach of a principle of our peaceful order" by violating Ukraine's sovereignty.
The EU intends to maintain its existing sanctions regime, which has targeted companies and individuals tied to the separatists and restrictions on some Russian industries, Lidegaard said in a telephone interview today. At the same time, there are steps the EU can take to increase its pressure on Putin, he said.
"I hope we will be able to agree on some action when it comes to making it very clear that the European Union does not accept the annexation of Crimea and will continue to put sanctions on Crimea in order to show that," Lidegaard said from Copenhagen.
Russian Criticism
EU foreign ministers will gather in Brussels on Dec. 15 to discuss Ukraine and other issues, before a Dec. 18-19 meeting of the bloc's leaders. Draft conclusions for the summit say that "the EU's policy of not recognizing Russia's annexation of Crimea and Sevastopol was further strengthened," signaling moves to resist Russian integration of the territory.
Russia criticized a bill aimed at intensifying sanctions passed by the U.S. Senate yesterday as "deeply confrontational," Foreign Ministry spokesman Alexander Lukashevich said in a website statement.
"Washington, which can't abandon outdated phobias, intends to turn back the clock," he said. Russia "won't succumb to blackmail, won't compromise its national interests and won't allow interference in its internal affairs."
Financing Needs
The EU also must tackle the matter of Ukraine's financing needs, which diplomats say the International Monetary Fund has estimated at an additional $15 billion, almost doubling the former Soviet republic's current $17 billion bailout. These funds must be assembled from a patchwork of sources, such as the U.S. and the EU, coupled with Russian assurances that it won't seek early repayment of an existing loan.
An international effort is needed to avoid a possible default, Yatsenyuk told lawmakers yesterday. IMF Representatives arrived in Kiev this week to discuss further payments under the existing program and a possible expansion.
Kostiantyn Yelisieiev, Ukraine's ambassador to the EU, today urged the bloc today to keep "significant sanctions" on the table. Ukraine continues talks with the IMF over its existing aid program and its additional funding needs, with a goal of a deal in early 2015, he said.
Ukraine's currency and government bonds fell to a record. The hryvnia weakened for a 10th day, down 0.3 percent to 15.76 a dollar, and has declined by about 48 percent against the greenback this year, the worst among all currencies tracked by Bloomberg worldwide. Ukraine's dollar-denominated bond maturing in July 2017 fell 1.8 cents to 65.237 cents on the dollar and the yield rose to a near record 29.18 percent.
Shaky Truce
While Poroshenko welcomed the cessation of hostilities, separatists still attacked government forces four times, Ukraine's National Security and Defense Council said on Facebook, adding that Russian special forces units are trying to "calm down" rebels in the conflict zone.
About 4,000 civilians took advantage of the truce to leave the conflict zone in the past day, Lysenko told reporters. Some 522,000 people have been displaced by the fighting since April, he said.
The Russian Security Council expressed "deep concern" over the continuing humanitarian crisis in eastern Ukraine at a meeting today, Interfax reported, citing Kremlin spokesman Dmitry Peskov.
Political Negotiations
No artillery or Grad rocket-launch systems were used in the past 24 hours, Lysenko said, while one Ukrainian soldier was injured by a mine near Donetsk and rebels broke the truce using rifles and grenade launchers. The Ukrainian Defense Ministry reported no deaths overnight.
The first effective cease-fire in Ukraine shows "there's a chance to move from the military phase to political negotiations," Poland's Foreign Minister Grzegorz Schetyna told Radio RMF FM today.
Even so, Ukrainian First Deputy Speaker Andriy Parubiy said lawmakers will back a Defense Ministry plan that envisages a sharp increase in defense spending and the drafting of 40,000 soldiers next year to expand the military to 250,000 troops. The crisis in eastern Ukraine will not be solved by talks but "only through applying force to insurgents to expel them from our territory," Parubiy said on the party website of Prime Minister Arseniy Yatsenyuk's People's Front.
The authorities in Kiev and rebel leaders discussed the timing and agenda this week for the next round of peace talks in the Belarusian capital, Minsk, although no date has been announced. It was previously suggested that a meeting would take place today. A cease-fire clinched Sept. 5 in Minsk has been broken almost daily.
Crimea will eventually return to Ukraine after residents grow tired of economic instability, Poroshenko said at Sydney's Lowy Institute.
The peninsula now has "no tourism, no jobs, difficulties with food, and product prices are doubled," he said, and in time people will "understand there are no benefits" to being part of Russia.
Before it's here, it's on the Bloomberg Terminal.
LEARN MORE