Russians Fall Behind on Dollar Loans After Ruble Plunge
Jason Corcoran, Ilya Khrennikov and Anna Baraulina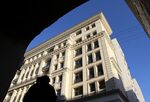 Anatoly Ivanov, a 39-year-old software engineer who lives in a 53 square-meter (570 square-foot) St. Petersburg apartment with his wife and child, said he feels boxed in.
The ruble's collapse this year has caused a headache for Anatoly, who bought his Soviet-era home with a dollar mortgage in 2008 from Absolut Bank OAO. At the time, a dollar was 23 rubles and the interest rate on the mortgage was 4 percentage points lower than on loans in rubles. Yesterday, the rate was about 55 to the dollar, and Ivanov is considering paying a penalty to switch the mortgage into rubles.
"Our $800 monthly payment has jumped to 38,000 rubles from 26,000 rubles since the start of the year," Ivanov, who is paid in rubles, said by phone. "If my wife didn't work, it would be difficult to make the increase in repayments."
Lured by foreign banks offering lower rates, Russians have taken 108.5 billion in non-ruble mortgage loans, according to Russian central bank data published on October 1. While that represents 3 percent of total mortgages, 15 percent of the foreign currency home loans are delinquent, while 0.9 percent of ruble loans are overdue.
The ruble has slumped about 40 percent against the dollar as oil slid to a five-year low and international sanctions tied to the conflict in Ukraine shut Russian companies out of overseas capital markets. The central bank has raised its key interest rate 4 percentage points to 9.5 percent this year and speeded up a move to a floating exchange rate to curb speculation against the currency.
Underwater Loan
Denis Denisov, a Muscovite who works in communications at an international bank he didn't want to name, took out a dollar mortgage with Nordea Bank AB in April. The ruble had jumped to 36 per dollar from 33 rubles that month, leading Denisov to think the worst was over following Russia's annexation of Crimea.
"The loan was about 75 to 80 percent of the price tag," Denisov, 33, said in an interview. "Now the loan exceeds the total value of the apartment by about 10 percent."
Denisov had been attracted by the 6 percent rate offered by Nordea. The rate was double that for a ruble loan from OAO Sberbank, Russia's largest lender. Sberbank, which controls 46 percent of the nation's deposits and a third of its loans, doesn't offer foreign currency mortgages.
Russia's central bank today increased its key rate to 10.5 percent from 9.5 percent, which may lead to higher interest rates in the banking system. The ruble renewed its record lows against both the U.S. dollar and the euro.
Eastern Europe
Russia, the world's biggest energy exporter, has been trying to build a mortgage industry since the fall of the Soviet Union in 1991 to meet the demands of its more than 143 million citizens.
In the years before 2008, when average growth in eastern Europe topped 5 percent, banks lured homebuyers from Poland to Croatia with mortgages denominated in euros and Swiss francs, often at less than half the local-currency rates. The arrangement hurt Hungarians the most when the financial crisis hit, causing the forint to fall 41 percent against the franc in the past five years.
In Russia, mortgage lending has grown by about 20 percent annually over the last four years, and the dominance of state-controlled lenders has limited the participation of foreign lenders.
Barclays Plc, Banco Santander SA, HSBC Holdings Plc, Morgan Stanley, KBC Groep NV and Rabobank NA, have all exited retail lending in Russia over the past four years.
Sberbank Share
In 2009, the share of foreign-currency lending for mortgages dropped to less than 20 percent from more than 50 percent in 2005, according to a report published by the Agency for Housing Mortgage Lending in September. The share of lending in dollars and euro "plunged" further after the financial crisis, the agency said.
Sberbank has 43 percent of the market, more than double the holding of nearest rival VTB, while Societe Generale SA's OAO DeltaCredit and OAO Rosbank have 2 percent each, according to the mortgage agency.
Ruble mortgage rates, which averaged 13.8 percent in 2008 when then-President Dmitry Medvedev began an initiative to increase home ownership, remain stubbornly high too at 12.24 percent.
Almost 450,000 new mortgages worth $15 billion were sold in Russia during the first half of this year, 30 percent more than in the prior year.
Sustaining the growth rates may be difficult after the central bank increased rates and as the country's economic prospects worsened.
Lending Surge
Sberbank's mortgage portfolio rose 28 percent in the first nine months of 2014, becoming the main driver of its loan growth, as Russians bought property to protect their savings from further currency declines.
"Russians prefer to save part of their money buying additional real estate as what they consider as a way to hedge against foreign exchange ruble devaluation," Alexander Morozov, the bank's chief financial officer, told analysts on a call on November 26.
Mikhail Povaliy, head of retail business at Alfa Bank, said Russia's largest private bank hasn't provided loans in foreign currency to individuals for about five years.
"It's my opinion that the loan must be taken in the currency in which you are paid," Povaliy said in an interview. "It's not surprising that FX mortgage delinquency is higher when the ruble fell by 50 percent to the dollar, and the salary remained the same. Therefore, we don't lend in dollars."
Corporate Loans
Companies are more exposed to currency volatility than individuals as foreign exchange loans represent just 3.3 percent of all mortgage loans, according to Mikhail Nikitin, a fixed income analyst at VTB Capital, VTB Group's brokerage unit.
"Retail loans in foreign exchange are subject to more scrutiny by the regulator and higher capital provisions so it's only really economical for foreign banks funded in foreign currency," Nikitin said by phone.
Dmitry Dervenyov, a 51-year-old web designer from St. Petersburg, is struggling to make payments on his dollar mortgage following the ruble's collapse this year.
"I took a dollar-denominated mortgage loan in Delta Credit in 2007, when the future looked bright and dollar cost only 24 rubles," Dervenyov said by e-mail.
Dervenyov said he is now trying to refinance this mortgage loan into rubles at Sberbank, although the process is becoming a "bureaucratic nightmare."
"Life has taught me that credit must be taken in the currency what you earn your wages," he said. "It's a lesson I will tell to our grandchildren."
As for Ivanov, he is consulting with the banks about refinancing his dollar mortgage into rubles.
"The body of the loan is now greater than it was when I took out the mortgage," he said. "In fact, you would need to take out a loan for a larger amount than we did initially and at high interest rates."
Before it's here, it's on the Bloomberg Terminal.
LEARN MORE