Russia's Rate Increase Fails to Halt Ruble's Slide to Record
Olga Tanas, Anna Andrianova and Ksenia Galouchko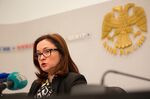 Russia's fifth interest-rate increase this year failed to stem the ruble's worst rout since 1998 as the central bank governor said a bigger move risked exposing the economy to a greater chance of recession.
The Bank of Russia increased its key rate to 10.5 percent from 9.5 percent, matching the median estimate of 34 economists surveyed by Bloomberg. The ruble fell to a record low, dropping as much as 1.6 percent. The central bank stands ready to take unorthodox steps if the situation worsens, Governor Elvira Nabiullina said after the decision, without elaborating.
Today's move is "a spineless decision," Vadim Bit-Avragim, who helps oversee about $4 billion at Kapital Asset Management LLC in Moscow, said by phone. "If the central bank's goal was to defend the ruble, it would've raised rates by 2-3 percentage points."
The central bank faces a balancing act as it manages an economy choked by sanctions and reeling from a depreciation that's wiped out 41 percent of the currency's value this year. The rate increase shows the narrowing options left to policy makers after they spent about $80 billion on defending the ruble and shifted to a free-floating exchange rate ahead of schedule last month.
Worst Performer
The ruble is the world's worst performer this year after Ukraine's hryvnia among more than 170 global currencies tracked by Bloomberg. It traded 1.4 percent weaker at 55.60 per dollar at 6:12 p.m. in Moscow.
The central bank wasn't trying to use a sharp rate move to sway the currency market, according to Nabiullina.
"Our main target is inflation," she told reporters in Moscow. "We're assessing risks for the economy. Our economy isn't in the best condition" and a large rate increase "would have increased recession risk."
The central bank has said it's ready step in at any time to prop up the ruble amid the lowest oil prices since 2009. It spent ''not much more than'' $300 million on currency interventions today, according to Standard Bank.
The bank can use $85 billion for currency operations next year in case of a crisis scenario that puts crude at $60 a barrel, according to Nabiullina. Russia's reserves fell $4.3 billion last week to $416.2 billion.
A weaker ruble, coupled with an increase in inflation expectations, ''pose substantial'' risks to price growth, the central bank said today.
'Harsh' Measures
''In case of further aggravation of inflation risks, the Bank of Russia will continue to raise the key rate,'' policy makers said in the statement. ''Accelerated consumer-price growth is driven by ruble depreciation in the second half of 2014.''
The rate increase comes a week after President Vladimir Putin told the central bank and the government to take ''harsh'' coordinated measures to deter speculators and steady the currency market. The Investigative Committee said today in a statement that currency manipulation may be added to the criminal code.
The central bank has resorted to higher rates after Putin's incursion into Ukraine's Crimea in March, even as the economy of the world's biggest energy exporter lurches toward its first recession since 2009. The central bank said today it estimates economic growth in 2015-2016 at ''close to zero." Inflation will be at about 10 percent by year-end, it predicted.
Price Pressure
The central bank wants to slow inflation to its medium-term target of 4 percent. Consumer-price growth last month accelerated to 9.1 percent from a year earlier, the fastest since June 2011.
Prime Minister Dmitry Medvedev said yesterday the government is in talks with large companies to even out their sales of foreign revenue after urging exporters to convert more of their currency income to help stem the ruble's tumble.
The central bank is calling for exporters to convert foreign revenue evenly and is in talks with banks and exporters on currency sales, Nabiullina said today. Ruble speculators contributed as much as 10 percentage points to this year's drop in the ruble, she said.
Today's decision "is not enough to stabilize the ruble and increases the risk of a full-scale currency crisis," Piotr Matys, a currency strategist at Rabobank International in London, said by e-mail. "The central bank may intervene more aggressively on the market, but selling hard currency already proved to be an insufficient tool, as reflected in the worst ruble rout since the 1998 crisis."
While the devaluation is eroding consumer purchasing power, a mainstay of Russia's economic recovery since the 2008-2009 crisis, there's no reason for a "special hysteria," Medvedev said yesterday in an interview with Russian television.
"We all just need to be patient to make it through this difficult period and look to the future," he said.
Before it's here, it's on the Bloomberg Terminal.
LEARN MORE