Hiring, Cheaper Fuel Give U.S. Retailers a Boost: Economy
Shobhana Chandra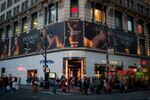 Shoppers basking in the glow of falling fuel prices and rising employment are opening their wallets, paying new dividends for the U.S. economic expansion in the midst of the holiday season.
Retail sales rose 0.7 percent in November, the most in eight months, as consumers snapped up electronics, clothing and furniture, according to Commerce Department figures issued today in Washington. Other reports showed fewer Americans filed claims for jobless benefits last week and confidence climbed to the highest level in seven years.
The biggest hiring increase in more than a decade and the lowest gasoline prices in four years are convincing households that the acceleration in economic growth will be sustained. Stocks rebounded from yesterday's selloff as some economists boosted fourth-quarter gross domestic product estimates.
"We could have a blowout period for consumer spending in December, which gives the economy momentum going into 2015," said Chris Rupkey, chief financial economist at Bank of Tokyo-Mitsubishi UFJ Ltd. in New York, who correctly predicted the gain in retail sales. "The oil glut is a boon. Employment is growing solidly. The economy is picking up speed."
Stocks rebounded from the worst day in seven weeks after the figures boosted retailers and confidence in the economy. The Standard & Poor's 500 Index climbed 0.5 percent to 2,035.33 at the close in New York. The S&P 500 Retailing Industry Group Index jumped 1 percent, the biggest gain this month.
Last month's retail sales gain was the biggest since March and followed a 0.5 percent advance in October that was larger than previously estimated. Demand improved in 11 of 13 major store categories.
Survey Results
The median forecast of 87 economists surveyed by Bloomberg called for a 0.4 percent increase. Estimates ranged from little changed to an increase of 0.7 percent. Retail sales for October were previously reported as a gain of 0.3 percent.
A Labor Department report today showed the number of applications for unemployment insurance benefits declined by 3,000 in the week ended Dec. 6 to 294,000.
The Bloomberg Consumer Comfort Index increased to 41.3 in the period ended Dec. 7, its highest since December 2007, from 39.8 the week before. Measures on the economy and buying climate also rose to the strongest levels in seven years.
The Commerce Department's figures showed sales climbed 1.7 percent at automobile dealers after a 0.8 percent increase the prior month.
Auto Sales
Industry figures, the ones used to calculate economic growth, showed sales of cars and light trucks rose to a 17.1 million annualized rate in November from 16.4 million the prior month, according to data from Ward's Automotive Group. In August, the rate was 17.5 million, the most since January 2006.
"Households are reaping significant disposable income gains each week at current gas prices," Emily Kolinski Morris, chief economist of Dearborn, Michigan-based Ford Motor Co., said on a Dec. 2 sales call.
Retail sales excluding autos also increased 0.5 percent, today's report showed. They were projected to rise 0.1 percent, according to the Bloomberg survey median.
The only two retail categories showing declines last month were service stations and miscellaneous retailers.
Gasoline station sales dropped 0.8 percent as lower gasoline costs depressed receipts. The Commerce Department's data aren't adjusted for prices.
Gasoline Prices
Lower fuel prices are freeing up money for consumers to spend elsewhere. Regular gasoline at the pump sold at an average $2.62 a gallon as of Dec. 10, down more than $1 from this year's high in April, according to AAA, the biggest U.S. auto group.
"The consumer is doing pretty well," said Thomas Simons, an economist at Jefferies LLC in New York, who predicted a 0.5 percent gain in retail sales. "Any money consumers are saving from lower gasoline prices is being deployed elsewhere. The broad-based increase in sales is quite encouraging."
Excluding autos, gasoline and building materials, which render the figures used to calculate GDP, sales climbed 0.6 percent, the most since June, after a 0.5 percent increase the previous month.
A strengthening job market is one reason gains are broad-based. Payrolls jumped by 321,000 last month, the most in almost three years, after a 243,000 gain in October. Employment this year is poised to rise by the most since 1999. The jobless rate held at a six-year low and average hourly earnings rose by the most since June 2013.
Net Worth
The improving job market helped make up for a decline in household wealth last quarter. Net worth fell by $140.9 billion from July through September, or 0.2 percent from the previous three months, to $81.3 trillion, the Federal Reserve said today from Washington in its financial accounts report, previously known as the flow of funds survey.
Early discounts probably lured shoppers to spring for more holiday gifts. That helped November same-store sales to exceed analysts' estimates at chains including L Brands Inc., the owner of the Victoria's Secret and Bath & Body Works brands, clothing chain Gap Inc. and warehouse club Costco Wholesale Corp.
Holiday season sales gains will allow the economy to build on the strength seen earlier in the year. GDP grew at a 3.9 percent annualized rate in the three months ended in September, after a 4.6 percent second-quarter pace that was the fastest since the end of 2011. Household consumption expanded at a 2.2 percent pace.
Economists at Morgan Stanley in New York raised their tracking estimate for the fourth-quarter gain in consumer spending to 3.7 percent from 3.2 percent. That increased their GDP projection to 2.2 percent from 1.9 percent. Colleagues at Barclays Plc raised the growth forecast to 2.2 percent from 2 percent after also taking into account an October gain in inventories reported by the Commerce Department today.
Before it's here, it's on the Bloomberg Terminal.
LEARN MORE