pursuits
Why Paintball Has Gone Splat
The fake shooting industry designed for corporate team building has faced competition from Tough Mudder and other extreme weekend sports
By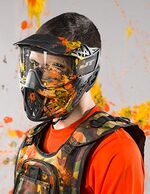 This summer, Sal Corallo, a high school student in suburban Long Island, got some bad news via Facebook. His favorite place to play paintball, the Island Paintball Arena, a rectangular brick building across from a graveyard in West Babylon, N.Y., was shutting down. Corallo, 16, had spent countless hours running around the course, firing colorful paintball rounds at goggle-clad opponents, and ducking for cover. He'd grown into a respected competitor, starring on a team of young sharpshooters and traveling to tournaments throughout the region. In the announcement on Facebook, the owners, John and Anthony Pennino, thanked their customers for 12 amazing years. "I think my heart shattered into pieces," Corallo posted.
All across the country, paintball participation is plummeting. According to a recent study by the Sports & Fitness Industry Association, the number of Americans who play paintball fell from 5.1 million in 2008 to 3.5 million in 2013. During the same five years, U.S. sales of paintball equipment dropped from an estimated $240 million to $139 million. Early in 2014 executives at Atomic Paintball in Southlake, Texas, abandoned plans to build a national paintball empire in favor of a more promising pursuit: mobile and outdoor advertising. In February, Kee Action Sports announced it was shutting down its paintball manufacturing facility in Clearwater, Fla., and laying off more than 100 workers. Yelp is strewn with reviews of local paintball venues that have recently gone out of business. In March, Los Gatos Pursuit Paintball, a family-owned facility in the woods of Northern California, closed after 18 years. "I don't think paintball is dying," says Joe Pommier, the field's owner. "But I do think that anywhere you look, you can see a decline."
The origins of paintball are often traced to 1981, when a group of friends repurposed some agricultural paintball shooters (used by farmers to mark things such as trees and livestock) for a capture-the-flag-like game in the woods of New Hampshire. America reached peak paintball in 2004: SpikeTV introduced a weekly show called Paintball 2Xtremes based on a popular magazine of the same name. The first episode, featuring highlights from an international tournament held outside Pittsburgh, included coverage of a Blues Brothers-themed paintball event. A few months later, Disney World hosted a series of competitions at its Wide World of Sports complex in Florida. In December the championship finals of the National XBall League aired across the country on ESPN2.
A decade later, paintball chat rooms are filled with dispirited ruminations about what's ailing the sport. Potential culprits include the bad economy and competition from extreme weekend activities such as Tough Mudder obstacle courses. Allen Adamson, North America chairman of brand consultant Landor Associates, says paintball has lost a lot of its raffish, renegade luster. "It's become less cool to do paintball than it used to be and maybe less socially acceptable because of the larger cultural issue surrounding guns," he says. "Paintball, as a category, has fallen out of fashion."
John Pennino of the Island Paintball Arena says he feels this loss deeply. "If you go on Google trends, type in 'paintball,' and look at the history of how it's been searched over the past six or seven years, it's scary," he says.
Pennino traces his love of the sport to the mid-1980s, when his father, a high school teacher, heard about the activity, then known locally as the "survival game," from one of his students. Anthony Pennino Sr. got his sons John and Anthony Jr. hooked on the sport and began selling supplies out of the family's basement. The game evolved from a competition largely played in the woods by middle-aged men seeking a thrill to one played indoors by teenagers for acknowledgment and prizes. The Pennino brothers opened a paintball supplies store, staged myriad corporate events, hosted an annual camp, and, in 2002, unveiled the Island Paintball Arena.
Times were good, Pennino says, until about 2008. As the economy soured, attendance dwindled. When the lease came up this summer, he and his brother decided it was time to retrench and focus on retail and special events. According to Pennino, the fanatical players remain as obsessed as ever. It's the casual participant who's gone missing. "It's weird, because paintball is still paintball," he says. "It's still so much fun."
Like the more mainstream golf, which is suffering a similar nose dive, paintball is an expensive hobby. Top-of-the-line guns, known as "markers," can cost more than $1,400. After renting or purchasing a gun and protective gear, players still have to shell out for admission fees and boxes of ammunition. "People don't have the discretionary income for paintball that they used to," Pennino says. (A typical one-time outing runs about $35 to $50.)

Many sports rely far more on a large constellation of casual participants than on a small core of rabid fans to generate profits, says Scott Rosner, the associate director of Wharton Sports Business Initiative. One of paintball's issues, he says, is that the die-hard fans, typically armed with automatic weapons capable of shooting 15 to 20 rounds per second at high speeds, tend to chase away many of the occasional competitors. As paintball guns have grown more powerful, the problem has become worse. Newcomers face not only the likelihood of defeat but of utter annihilation. "It actually hurts when you get shot," Rosner says. "You have that experience once or twice, and you say, 'Why am I doing this? This is supposed to be fun. I'm not supposed to be hunted for prey.' "
Pommier, the owner of the now-defunct Los Gatos Pursuit Paintball, says the sport's culture has grown more bellicose. "You have this attitude that came to be known as the 'agg' mentality," he says. "It means aggressive. It became this trendy thing to say, 'I'm agg, and you're not.' The same kid who was probably getting his lunch money stolen in junior high is then coming out to the field with $4,000 worth of gear and turning into a flaming lunatic. It really did flip the game around. There were a bunch of jerks playing."
Ideas about how to revive the sport haven't succeeded. The industry has rolled out lines of less powerful, less painful guns, such as the JT SplatMaster series, designed to ease pain-sensitive newcomers and youngsters into the sport. Numerous facilities have jumped on the Walking Dead bandwagon, staging zombie paintball nights during which participants can blast away at actors dressed up as the undead. Pennino says such gatherings tend to be reliable breadwinners. "The big, cool events bring in the weekend warrior guys," he says. "They'll come out and buy a couple boxes of ammunition and drop a bunch of money."
Passionate players hold out hope for a broader revival, but in the meantime they're adjusting to paintball's new normal. In July, at the final weekend of the Island Paintball Arena, Corallo, the high school devotee, played multiple rounds with his friends and took pictures for posterity. The farewell was bittersweet. "I kept one of the original banners," he says. "And I have one of the owner's old jerseys with his name on it. It's a sentimental thing."
In California, Pommier says he's considering opening another venue. But cheap land is hard to find, regulations are tough, and insurance is expensive. So he's finding ways to fill his spare time. "Every weekend of my life for the last 20 years was eaten up by paintball," he says. "Having my weekends back is freaky. I'll pull out my paintball gear to clean it, but I don't play much anymore. I've started playing a lot of pool."
Before it's here, it's on the Bloomberg Terminal.
LEARN MORE