Mexico's Season of Scandal and Violence
A purchase by Mexico's first lady, Angélica Rivera, is tied to a winning government bidder
By and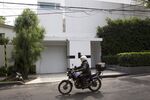 Mexico has been engulfed in protests since the disappearance and alleged murder of 43 college students by a drug gang. While he contends with the unrest, President Enrique Peña Nieto also faces a big challenge to his economic agenda because of a scandal involving his wife, former soap opera star Angélica Rivera, and Grupo Higa, a government contractor.
On Nov. 3, the Peña Nieto administration awarded a $4.3 billion contract to build a high-speed railway to a group led by China Railway Construction. Three days later the government canceled the deal, citing general "doubts and concerns." On Nov. 9, reporters led by prominent journalist Carmen Aristegui revealed that Rivera had agreed in 2012 to purchase an opulent property—called the White House because of its color—from a unit of Higa, a partner in the winning China-led bid. Aristegui's team further revealed that the Higa unit still held the deed to the house. In response, the first lady said on YouTube that she'd paid 14.3 million pesos ($995,000) of the 54 million-peso purchase price. So the first lady's mansion is owned by a construction company that has bid successfully for government contracts.
The relationship between Higa and Peña Nieto goes far back. The contractor's chief rented airplanes for his use when he ran for president. Higa also won millions in government contracts in Mexico state when Peña Nieto was its governor. The government acknowledges he used another Higa-owned house during and after his presidential campaign. He may sustain some political damage if a large number of Mexicans suspect the builder got preferential treatment in the rail bidding because of ties to the presidential couple, says political consultant Alfonso Zárate.
The scandal comes at a delicate moment as the government tries to lure private investments to develop state oil reserves. Major foreign oil companies are expected to bid, so even a hint of impropriety makes Peña Nieto's job harder. "There are concerns about the possibility of sweetheart deals," says Duncan Wood, director of the Mexico Institute at the Woodrow Wilson International Center for Scholars. "Companies want to know that they have a reasonable chance of getting fair treatment in a bidding process."
Mexico plans a major auction of oil and gas fields in 2015. "A lot of these projects are 10- or 20-year types of things, so you have to be very comfortable investing in a system that is transparent," says Benito Berber, an analyst at Nomura Holdings. Output of the state oil company Pemex has dropped for 10 years as the government milked its fields for revenue and made inadequate investments.
The scandal is shaking up the planned bidding to build Mexico City's new airport, a project costing an estimated $12 billion. Nine Mexican construction companies, including one controlled by billionaire Carlos Slim, are working together to win contracts and are considering cutting out Higa because the scandal brings them negative attention, says a person familiar with the group. Higa declined to comment.
Peña Nieto's spokesman, Eduardo Sánchez, says the first family's ties to Higa aren't a conflict of interest, and the government still expects oil sector reform to attract investment. Rivera says she plans to sell the rights to the house. In her video statement she said accusations of impropriety were "a pretext to offend and defame" her family.
BOTTOM LINE -
The bottom line: A scandal involving a contractor and the Mexican president's wife could deter foreign investors.
Before it's here, it's on the Bloomberg Terminal.
LEARN MORE