business
Logistics Are Holding India's E-Commerce Companies Back
E-tail is hugely promising for Amazon and Snapdeal in India—but it often doesn't deliver
By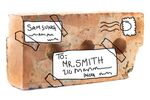 Laxminarayan Krishnamurthy figured a Samsung Galaxy Core 2 smartphone would make a perfect gift for his wife. So he ordered one from New Delhi-based e-retailer Snapdeal.com. When the package arrived, it contained a brick and a bar of soap but no phone. When he contacted the company, Krishnamurthy was told the phone was stolen by unscrupulous middlemen transporting the package. So he took his complaints to Facebook.
"Had ordered a samsung mobile through snapdeal and we got a soap bar!!!" Krishnamurthy wrote. "The worst customer service ever received!!! Beware of snapdeal guys!!"
Anjana Swaminathan, a Snapdeal spokeswoman, didn't respond to a request for comment.
Online sales in India are booming, but unhappy customers like Krishnamurthy are more the rule than the exception. Inadequate warehouses, lack of skilled and reliable workers, and too few planes mean online shopping in India is inferior to the shopping experience in the U.S. and China. Krishnamurthy's rant was shared more than 21,000 times as consumers chimed in with complaints of theft and damaged, lost, or delayed goods from Snapdeal, Bengaluru-based Flipkart.com, and Amazon.com, India's biggest Web stores.
The shoddy service is undermining efforts by Web merchants to build customer loyalty in a market in which sales could jump 70 percent, to $6 billion, next year. "The customer can forgive you one time, but if it's a repeated thing they won't," says Pragya Singh, associate vice president for retail at consultant Technopak Advisors.
Since July, foreign investors, including billionaires Masayoshi Son and Yuri Milner, have committed a combined $3.6 billion in investments to Flipkart, Snapdeal, and Amazon India. Flush with cash, online retailers are fighting a price war to gain customers, says Ritesh Chandra, an executive director at investment bank Avendus Capital in New Delhi.
The three weeks leading up to the Diwali festival in October, the start of the Hindu new year, were among the busiest periods in Indian e-commerce history. The demand exceeded the e-retailers' expectations, resulting in servers crashing and goods selling out in seconds. "It's like organizing a party for 100 people. You're prepared for about 120 or 130. But if 300 people show up, then it's a serious problem," says Vijay Ghadge, chief operating officer of delivery company Gojavas, which ships packages for the three major retailers.
One of the biggest hurdles was a shortage of cargo space on airlines, says Neeraj Aggarwal, Flipkart's senior director for supply chain. Crates of shipments piled up at airports across India, and delivery companies couldn't meet schedules. "If you depend completely on air cargo as your only mode of transport, you are going to be asking for trouble," Aggarwal says.
India is projected to surpass the U.S. this month as the nation with the second-largest number of Internet users after China, according to the Internet and Mobile Association of India. But less than a half-percent of the nation's retail sales come from the Internet, compared with 6 percent in the U.S. and 5 percent in China, Technopak says. Steep discounts that might lure first-time customers have e-retailers burning cash, says Chandra of Avendus Capital. "No one is making money now."
Losses for both Snapdeal and Flipkart more than doubled in the year ended March 31. Snapdeal's parent posted losses of 2.64 billion rupees ($42.6 million). Flipkart's two main entities lost 7.16 billion rupees in the same period, according to filings with India's Registrar of Companies.
Building a delivery network for e-commerce is complicated in a country in which millions of customers are spread out across more than 100,000 ZIP codes. "There is so much paperwork and rules, and every state is different," Technopak's Singh says.
The companies say they're taking steps to prevent delivery nightmares. Flipkart will move some parcels to truck delivery, and it plans to hire college students for temporary jobs during big sales periods, Aggarwal says. Delivery company Ecom Express—it works with Amazon, Snapdeal, and Flipkart—is using airports in smaller cities like Pune (near Mumbai) where traffic is lighter.
In a statement, Amazon said the "unprecedented high volume" of goods moved during Diwali led to delays in shipments and that the company is working to resolve the issues.
"I have stopped shopping online," Krishnamurthy says. "E-commerce in India has a lot to learn." His encounter wasn't a total loss. The soap bar he received was made by the Indian unit of Unilever, which tried to spin his "negative consumer experience" into a positive one by sending Krishnamurthy the same smartphone he had ordered for his wife. "Here's a small gesture from our side to cheer you up," read a note in the package, which included two bottles of Unilever dish soap. "That was really something," Krishnamurthy says. "I can't believe how one Facebook post triggered all this."
Before it's here, it's on the Bloomberg Terminal.
LEARN MORE