Kerry Tells Climate Talks Cuts Are 'Everybody's Responsibility'
Alex Nussbaum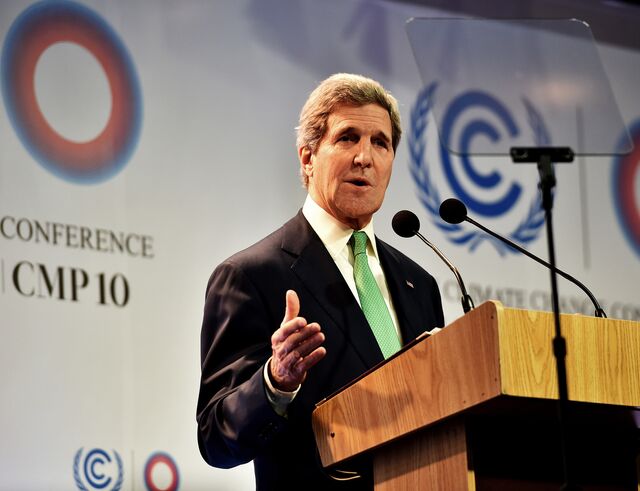 U.S. Secretary of State John Kerry urged all nations to stop arguing about who's responsible for climate change and start cutting emissions, warning that the world was "on a course leading to tragedy."
Kerry swept into United Nations-sponsored talks in Lima yesterday and said the U.S. would do its part, yet it couldn't act alone to rein in global-warming pollution. The speech was delivered as delegates from more than 190 countries tried to craft a deal that would require developing nations like China and India to limit their emissions for the first time.
"I know how angry some people are about the predicament they've been put in by big nations," Kerry said during the half-hour speech. "But the fact is we simply don't have time to sit around going back and forth about whose responsibility it is to act. Pretty simple folks -- it's everybody's responsibility."
Negotiators in Lima are attempting to lay the foundation for a global agreement in Paris next year. Entering the final hours of the two-week meeting, delegates hadn't yet reached an agreement on how much information nations will be required to give next year, when they announce voluntary pledges to control their own emissions. Developing nations were also pushing for more assurance that rich countries would fulfill a promise of $100 billion a year in aid to help them cope with a warming climate.
Global Problem
While acknowledging developed economies have "contributed significantly" to global warming, "no single nation, not even the United States, can solve this problem or foot this bill alone," Kerry said. "If even one or two major economies fail to respond to this threat, it will counteract much of the good work" by others.
Even so, Kerry said the biggest emitters, including the U.S., "have to contribute more to the solution,"
U.S. delegates said Kerry wouldn't take part in the negotiations this week and was flying in only long enough to deliver remarks intended to energize the talks. In his speech, he seemed to take a swipe at Republicans in the U.S., who deflected questions about climate change during this year's congressional elections by saying they weren't scientists.
"You don't need a Ph.D. to see the world is changing," Kerry said. "You just need to pay attention."
Before it's here, it's on the Bloomberg Terminal.
LEARN MORE