Italy Follows Greece As President Vote Guides Renzi Fate
Lorenzo Totaro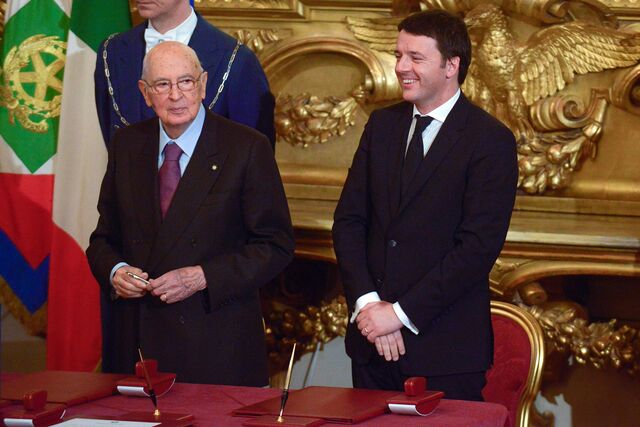 History shows that where Greece treads, Italy tends to follow.
As investors brace for a Greek presidential succession that could sink the government, Italy faces its own dilemma over appointing a new head of state after Giorgio Napolitano indicated that he'll consider stepping down in the new year.
Unlike in Greece, the role of Italian president is more than just ceremonial, expanding at times of political crisis to include the power to dissolve parliament, call new elections and designate a prime minister: It was Napolitano, 89, who picked Matteo Renzi, 39, as premier in February. That turns the looming contest over the successor to Italy's oldest president of the post-World War II period into a showdown that will help determine the fate of its youngest prime minister.
"In Italy, the presidential vote has often been used to harm political figures who have become too strong," said Giovanni Orsina, a history professor at Luiss University in Rome. "And Renzi is the strongest one right now."
Renzi has benefited until now from record low borrowing costs in the euro-area periphery backed up with a pledge to safeguard the euro made by his fellow Italian, European Central Bank President Mario Draghi.
Time is now running out for Renzi to demonstrate success in overhauling Italy's sclerotic economic and administrative system to help tackle a record recession. Italy's long term credit rating was lowered by Standard & Poor's last week on weak growth prospects and high public debt.
'Close Friend'
To push through his own nominee for the presidency, Renzi needs to show he has enough backing from an electoral college comprising more than 1,000 members. Failure to do so would show his lack of control of the Parliament, casting doubt over his ability to continue to govern the country and follow through with his reform agenda.
"The premier desperately needs a close friend in the presidential palace to overcome inner-party resistance, someone who can call snap elections before his popularity sinks too much," said Francesco Galietti, founder of research firm Policy Sonar in Rome.
Renzi is Italy's third consecutive prime minister who got the job without running in a general election. While he enjoyed an initial popularity bounce, record unemployment and Italy's longest recession since World War II are taking their toll. Renzi's approval rating dropped to 49 percent in November from 54 percent the previous month, Corriere della Sera said last week, citing an Ipsos PA survey.
Berlusconi, Grillo
The prime minister has so far secured Parliament's support for most of his measures through confidence votes, which put the government's survival at stake each time through a recorded ballot. Renzi also recently faced an impasse over the filling of vacancies in the Constitutional Court, when it took dozens of secret ballots on candidates backed by Renzi's Democratic Party before a quorum was reached.
To win through with his choice of presidential candidate, Renzi must navigate yet deeper into the Byzantine world of Italian politics. That may mean making deals and forming alliances with the likes of former Premier Silvio Berlusconi's Forza Italia party and ex-comedian Beppe Grillo's Five Star Movement.
About 950 national lawmakers and 58 regional delegates make up the electoral college that will choose Napolitano's successor by secret ballot. To win in any of the first three rounds, a candidate must secure a supermajority of two-thirds of the vote, whereas from the fourth round a simple majority suffices.
'Parliamentary Bloodbath'
The procedure can take several days as just two rounds of voting are held in any one day. While some presidents, such as Francesco Cossiga in 1985, were chosen in a single day, the election of Giovanni Leone in 1971 took 23 rounds of voting.
"This time, the risk is of a Parliamentary bloodbath with days of fruitless voting and scores of candidates being eliminated," said Orsina.
What is now Italy inherited the mantle of western civilization's leading power from Greece as Rome came to dominate the Mediterranean in the first century BC.
Still, Italy today is no Greece, and didn't have to resort to a bailout during the sovereign debt crisis. Renzi's attempts to tame Italy's debt, while reducing the tax burden on low-paid employees and pushing thorough changes in labor legislation, have so far been rewarded by financial markets.
Yields Steady
The yield on Italy's 10-year bond fell below 2 percent for the first time on Dec. 3 compared with 3.6 percent when Renzi succeeded Enrico Letta in February and more than 7 percent in November 2011, when Berlusconi quit as premier amid signs of contagion from Greece. Yields declined two basis points to 2.03 percent as of 10:33 a.m. in Rome today, while the yield on similar Greek debt rose above 9 percent.
Whereas borrowing costs soared in Greece this week after Prime Minister Antonis Samaras announced he'd bring forward the presidential election, Italian yields remain unaffected. That might not last in the event of a political stalemate.
"Tensions around the presidential vote have the potential to influence the market, increasing the volatility," said Chiara Manenti, a fixed-income strategist at Intesa Sanpaolo SpA in Milan.
Not for the first time, Berlusconi could hold the key.
The nomination for head of state could rupture an alliance of convenience between the three-times premier and Renzi. The agreement, known as the Nazareno pact after the street where Renzi's Democratic Party headquarters are located and where the two met a month before Renzi rose to power, outlines a common strategy aimed at passing constitutional reforms and a new electoral law, and ensuring a stable government.
Break Down
"If Renzi clashes with Berlusconi on this, their pact may break down," forcing early elections, said Giuseppe Civati, a lawmaker with the Democratic Party who belongs to a minority group critical of Renzi. The outcome of the presidential vote "could not only hurt the government but the duration of the legislature," he said in an interview.
A wildcard candidate for the presidency is Draghi, who is routinely named in Italian newspapers as a potential successor to Napolitano. Others touted include Walter Veltroni, a former mayor of Rome and head of Renzi's party, and Senate Speaker Pietro Grasso, who is in line to take over as head of state in a caretaker capacity after Napolitano's resignation.
While Draghi has said he plans to stay at the ECB, Berlusconi said in a Nov. 29 interview with Corriere della Sera that the central banker would be a suitable candidate for Italy's presidency.
"It wouldn't be Renzi's first option, as Draghi is too big a figure," said Civati.
All the same, neither did the incumbent want to remain in the job in 2013, when he only agreed to stay on for lack of a suitable successor. "Draghi could end up serving as a last resort, much like Napolitano," Civati said.
Before it's here, it's on the Bloomberg Terminal.
LEARN MORE