China's Confucius Peace Prize Goes to Fidel Castro
By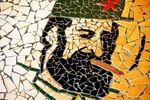 The latest recipient of China's now four-year-old Confucius Peace Prize, Beijing's answer to the Nobel Peace Prize? It's retired Cuban leader Fidel Castro, hailed by Chinese state media for his "important contributions" to global peace.
The prize was received in Beijing today by a Cuban exchange student on Castro's behalf. The 88-year-old former leader stepped down in 2006 after almost five decades in power and now spends his time writing books and articles, reports the South China Morning Post. Previous recipients include past Taiwanese Vice President Lien Chan and Russian strongman Vladimir Putin, as well as Kofi Annan, past secretary general of the United Nations.
"While in office, Castro did not resort to violence or force to settle disputes in international relations, especially with the United States," the Party-owned Global Times wrote. The paper also commended Castro for what it said was his push for the elimination of nuclear weapons.
The prize honoring the Chinese sage has a controversial history. Authorities at one point announced it would be terminated, following controversy over whether or not it had official backing from the government. It is now run by the China International Peace Studies Center, an academic group that says it is not affiliated with Beijing in any way.
The Confucius award was established in 2010 so China would have its own rival to the Nobel Peace Prize, following the Norwegian committee's decision to honor imprisoned Chinese writer Liu Xiaobo that same year.
"China is a great nation that has been influenced by the Confucian concept of peace for a long time," said Tan Changliu, then chairman of the awards committee, reported CNN.com at the time. "We want to promote world peace from an Eastern perspective."
"Europe is full of small countries that had fought each other for centuries," Tan added. "We don't want to see people who don't understand peace … ruin the concept."
Earlier this year China's President Xi Jinping visited Cuba, where he met with Castro. "You are the founder of the causes of Cuban revolution and construction and also of the China-Cuba relationship," Xi told Castro, the official Xinhua News Agency reported in July. "You are deeply admired by the Cuban people and have also won the respect of the Chinese people. We will never forget the significant contributions you have made to the bilateral relationship," Xi said.
Before it's here, it's on the Bloomberg Terminal.
LEARN MORE