Ferrari 'Fleeing' Italy Prompts Angst About Losing Icons
Tommaso Ebhardt and Lorenzo Totaro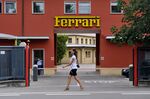 Ferrari SpA's potential exit from Italy is causing some hand-wringing in its home country.
The possibility of shifting its tax residence from the iconic Maranello headquarters, where its first sports cars were built in 1947, is generating a debate in Italy about the risk of losing the country's most famous brands as the economy struggles to emerge from its longest recession.
"Ferrari Fleeing to London," was the front page headline in Milan daily Il Giornale, the newspaper owned by former Prime Minister Silvio Berlusconi's family. Bloomberg News reported yesterday that Ferrari is considering moving its fiscal residence outside Italy to save on corporate taxes, according to people familiar with the matter. Fiat Chrysler Automobiles NV said today that there is no intention to move Ferrari's tax residence outside Italy.
The risk of losing Ferrari after its parent company Fiat and the truck and tractor maker CNH Industrial NV moved their headquarters to the U.K. has prompted politicians and union leaders to ask prime Minister Matteo Renzi to intervene to stop the trend.
"Corporate taxes remain too high, investment plans to modernize the country are nowhere to be seen, while resources are getting destroyed by corruption," said Carla Ruocco, a lawmaker with the opposition Five Star Movement and deputy chairman of the Lower House Finance Committee. "Given this business environment, it's not surprising that more and more companies and investors are fleeing the country."
Luxury Goods
Several well-known Italian brands have been sold to foreign companies in the last five years. Luxury goods maker Bulgari SpA and Loro Piana Spa were bought by billionaire Bernard Arnault, motorbike maker Ducati was purchased by Volkswagen AG, while airline Alitalia was rescued by Etihad Airways PJSC.
Renzi's efforts to revive growth and keep public finances in check are being hurt by an economy that's mired in a fourth year of a slump. Industrial output unexpectedly fell for a second month in October, the country's statistics agency Istat said in a report today. Production is still more than 25 percent lower than its pre-crisis peak in 2008.
If it follows Fiat and CNH to the U.K., Ferrari would benefit from the U.K.'s corporate tax rate declining to 20 percent next year from 21 percent. Income from patents will eventually be as low as 10 percent, offering potential for additional relief. By comparison, Italy's corporate rate is 31.4 percent. The country is ranked 56th in the World Bank's Doing business ranking, just after Turkey and Hungary. The U.K. is 8th.
Tax Pressure
"Italy has been committed for months to improve conditions for companies that pay taxes in the country and to reduce the differences among jurisdictions across the European Union," Roberto Basso, spokesman for Italy's Finance Minister Pier Carlo Padoan, said by phone. "The government is well aware that tax pressure on companies is still high and is committed to cutting it further after already reducing the regional business levy IRAP."
A London headquarters would make sense for Ferrari because once it's a listed company "you need to have a base in a place like London or New York because the investor communities are focused there," said Julian Birkinshaw, a professor at the London School of Business. "I can imagine Ferrari as a flagship national brand is under great pressure domestically to not make this move."
Jobless Rate
An eventual shift of Ferrari's base won't affect the carmaker's manufacturing and engineering in Maranello, the people familiar with the matter said yesterday. Fiat isn't abandoning the country because it remains committed to rehire all its laid-off workers in Italy as part of its five-year investment plan, Marchionne said in October. Fiat has no project to move operations outside Italy, it said today.
After Renzi visited Chrysler's headquarters in Michigan, he said "the location of the finance and headquarters operations are not important; it's absolutely important that the number of jobs and employers in Italy are increasing."
That's not happening though. With unemployment rates near record levels, thousands of workers will join an eight-hour general strike that has been called by two of Italy's three largest labor unions to protest Renzi's labor reform measures.
The protest is expected to disrupt air, maritime and ground transport across the country and follows similar interruption of services last month.
Before it's here, it's on the Bloomberg Terminal.
LEARN MORE