Congress Says It Has to Cut Pensions to Save Them
By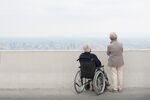 Joshua Gotbaum doesn't like telling retirees that their pensions are about to be cut. After all, until August he was the director of the Pension Benefit Guaranty Corporation (PBGC), the federal insurance fund that's supposed to safeguard pensions. But yesterday Gotbaum interrupted a vacation in Madrid to return my call asking about a bill working its way through Congress that would allow multi-employer pension plans to cut benefits. He's a huge supporter of the legislation.
"The alternative is that the plans would collapse. It's reorganize rather than die," says Gotbaum, a former Lazard investment banker who is now a guest scholar at the Brookings Institution.
On Dec. 9, lawmakers agreed on pension reforms as part of a $1.1 trillion spending bill to keep the federal government from shutting down. Inclusion in that bill almost ensures the provision's passage. The bill applies to roughly 10 million participants in multi-employer pension plans, typically found in construction, trucking, and other industries in which several employers, often small businesses, negotiate collectively with unions to cover a group of workers in a region. They tend to be in much worse condition than single-employer plans, because many of the companies in them have gone out of business, leaving the survivors to pick up the slack for workers who never even worked for them. About 1.5 million of those participants are in plans that could run out of money in the next two decades if nothing is done.
The legislation would allow the plans' trustees to cut benefits without having to shut down and be taken over by the PBGC. The bill is bipartisan and supported by some—but not all—labor unions. As explained by Bloomberg News, "The provision reflects an agreement by House Education and the Workforce Committee Chairman John Kline, a Minnesota Republican, and senior Democrat George Miller, a California Democrat."
Allowing these plans to cut benefits is strongly opposed by the Pension Rights Center, an organization backed by foundations and unions. It's "a huge breach of Erisa," the Employment Retirement Income Security Act of 1974 whose 40th birthday was celebrated in September, says Karen Friedman, the center's policy director. "We're totally outraged by this legislative deal, which was done in the middle of the night." She says it sets a precedent that could weaken the protections of single-employer pension plans and even Social Security.
As Friedman notes, it's been a tough year or two for pensions. In October, a federal bankruptcy judge ruled that the California Public Employees' Retirement System doesn't deserve special protection when cities turn to bankruptcy court. Retired city workers in Detroit took benefit cuts in that city's bankruptcy.
Alicia Munnell, director of Boston College's Center for Retirement Research, says the change to multi-employer plans "is letting the genie out of the bottle. Once it becomes legal to cut accrued benefits, then it's a different world. It's really precedent-making change." While not opposed to giving trustees flexibility, she said, "It needs to be applied very, very judiciously."
Gotbaum and others say that there was no alternative to letting trustees of trouble plans cut benefits. "To me, it's the natural and predictable evolution of a long-running problem," says Olivia Mitchell, executive director of the Pension Risk Council at the University of Pennsylvania's Wharton School. "The fact is the PBGC has never had any government backing, and it's never been set up so [that] the premiums are sufficient. The Erisa Act of 1974 didn't price the insurance right, and this is the result."
Multi-employer plans are in particularly poor shape. Mitchell says the PBGC reported assets for them of $1.8 billion and liabilities of $44 billion. The worst off among the major plans, the Teamsters' Central States pension fund, has just one worker for every five retirees or inactive members collecting benefits, a dramatic reversal from the four-to-one employee-to-retiree ratio it had in 1980, the Washington Post reported.
The bill in Congress has some safeguards built in for retirees. Those older than age 80 would be spared cuts, and workers 75 to 80 would suffer only part of the cut. Retirees and current workers have the right to reject cuts, although Friedman said that veto can be overridden by the plan's trustees. Trustees would not be allowed to cut benefits to less than 1.1 times the minimum provided by plans that are taken over by the PBGC. So employers will bear some of the pain: Their premiums will double to $24 per worker per year.
Says Gotbaum: "When I started doing this, no one thought this bill could pass. I'm ecstatic. It's great."
Before it's here, it's on the Bloomberg Terminal.
LEARN MORE