China Tries to Bring Growth to Its Restless Xinjiang Region
Beijing is intent on developing Xinjiang, but resentment from its Uighur Muslim population is simmering
By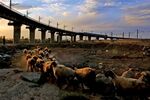 Urumqi, the capital of Xinjiang in China, is a cold and forbidding place to visit in late November. The red and blue flashing lights of police vehicles are everywhere. Soldiers wearing black masks and carrying automatic weapons are spread across the city, often standing next to squat black and white armored vehicles. Every commercial building, hotel, and government office has a metal detector manned by a police officer at its entrance. Fliers scattered around the city explain why women should not wear veils.
Perched on the edge of Central Asia, the region of Xinjiang ("new frontier" in Mandarin) has long presented a dilemma for China's leaders. It's home to some of the country's largest oil, gas, and coal reserves. But its ethnically Turkic, Uighur Muslim inhabitants have long chafed under Chinese rule: Many pro-independence fighters over the decades have attacked Chinese targets, and the violence—what some credit to a shadowy group called the East Turkestan Islamic Movement—continues to this day. Beijing labels the ETIM's members as terrorists.
This year growing anger with Uighurs over what they say is economic discrimination and religious oppression sparked attacks, usually against Chinese residents, that have killed 200 people and undermined Beijing's control over the region. On Dec. 8, authorities sentenced eight Uighurs to death for their role in two attacks killing 42 at a train station and an Urumqi market in the spring.
President Xi Jinping has presided over seven Politburo meetings about the security, economy, and social conditions in Xinjiang. In April he toured the region, visiting schools, small businesses, police stations, and mosques. "The long-term stability of Xinjiang is vital to the whole country's reform, development, and stability—to the country's unity, ethnic harmony, and national security as well as to the great revival of the Chinese nation," Xi told local officials. His carrot-and-stick strategy: more jobs and investment, paired with swift suppression of anything that hints at separatism.

At the heart of Xi's plans is the Silk Road Economic Belt, a name that evokes the old trade routes across Central Asia that ended in China. The new version of the road is an intensive effort to increase China's trade with Kazakhstan, Turkmenistan, Tajikistan, Kyrgyzstan, and other nations eager to supply China with oil, gas, and minerals in exchange for China-built and financed infrastructure. Urumqi will be the Silk Road trade network's financial and administrative capital, providing new jobs to Xinjiang. "China is rediscovering its continental ambitions, and Xinjiang is central to that," says Tom Miller, an analyst at researcher GavekalDragonomics.
Beijing is building 20 special industrial zones in Xinjiang, similar to those that made coastal China a magnet for outsourcing. Companies in the zones will enjoy tax breaks, cheap rent, and expedited approvals for exporting and importing. Today more than one-quarter of the value of the area's industrial sector is related to natural resources, compared with the national average of just 5 percent. That leaves the local economy exposed to the commodities slump. Xinjiang's economy also relies heavily on subsidies from Beijing, which make up more than 60 percent of the budget.
The Uighurs face serious discrimination in the job market, says Wu Xiaogang, a professor of social science at the Hong Kong University of Science and Technology. Almost 80 percent of Uighurs still farm, largely in the poor southern half of Xinjiang. One focus of a top-level party meeting in May was the concern that inequality and the jobless rate among young Uighurs in the south were fanning unrest. The senior officials in attendance decided to offer lower tax rates and other benefits to companies that bring jobs to southern Xinjiang. They also pledged that at least one member of every Uighur family will have a job and expanded the placement of Uighurs in factory work in Guangdong province. "The idea is to take them out of subsistence agriculture and push them into migrant worker-type jobs. Like it or not, these people will be dragged into the 21st century," says Nicholas Bequelin, a senior researcher at Human Rights Watch in Hong Kong.
New rules that ban religious practice in government buildings and pressure Muslim women to forsake their veils are alienating many Uighurs, says James Leibold, a political scientist at Australia's La Trobe University. He says a policy in some parts of Xinjiang to encourage intermarriage between Uighurs and Han Chinese with annual payouts as high as 10,000 yuan ($1,620) for five years is seen as heavy-handed by many.
Increased violence has ruined tourism as Chinese avoid the region's scenic deserts and mountains. Many Han Chinese are leaving Xinjiang for their home provinces. That's hurting small businesses, says Zhang Haitao, a Han Chinese who immigrated in 2006 and who sells shoes in Urumqi. "My business just keeps getting worse," he says.
Uighur merchants have it tough, too. Ailijiang Kuerban sells brooches and veil clips to Muslim women in Urumqi. His sales have fallen sharply since Beijing restricted most Uighur travel to the capital in the wake of the April and May attacks. He can no longer go to the city of Yiwu in Zhejiang province, where he would stock up on goods. He can't find a place to put him up. "Hotels outside Xinjiang usually won't let Uighurs stay in them anymore," he says.
"All these police and soldiers on the streets, do they make you feel secure?" another Uighur businessman asks. "Beijing is spending so much money on them, and it only makes us more afraid. This place is no longer our home."
BOTTOM LINE -
The bottom line: China hopes to spur economic development in Xinjiang, but its Uighur majority feels excluded from available jobs.
Before it's here, it's on the Bloomberg Terminal.
LEARN MORE