Can Pianist Yanni Surmount Sanctions to Bring U.S.-Iran Harmony?
Indira A.R. Lakshmanan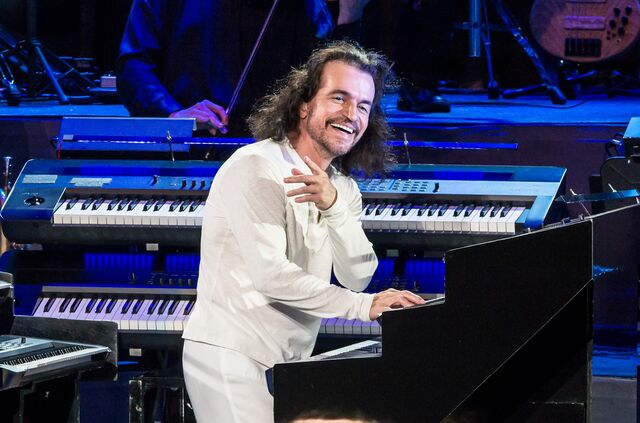 Can the pianist Yanni do what negotiations between U.S. and Iranian diplomats have failed to accomplish: bring a little harmony to two nations that have been adversaries for 35 years?
Just as "ping-pong diplomacy" helped bring the U.S. and China closer together four decades ago, next year will bring easy-listening diplomacy to Iran if Yanni's promoters and his Iranian fans have their way. But the Greek-American minstrel's message of global understanding through music will make it there -- where he could become the first Western musician to perform since the 1979 Islamic Revolution -- only with a green light from authorities in both Tehran and Washington.
Iran's conservative authorities have squelched other attempts by Western artists to perform in recent years, but Ministry of Culture and Islamic Guidance spokesman Hossein Noshabadi said Dec. 10 that his agency wouldn't object to Yanni if a formal request is made and the country's laws are respected, according to the official Mehr news agency.
Although it's gone unnoticed in media coverage, Yanni is a naturalized American citizen so he'll also need permission from the U.S. Treasury Department to avoid running afoul of U.S. sanctions on Iran.
In telephone interviews, Yanni's longtime manager and his lawyer said the artist is aware of the ban on Americans selling goods and services or working in Iran. They say they're preparing an application for a special U.S. license, hopeful that it will be received positively given the artist's nonpolitical agenda.
'Universal Language'
Yanni "stands for this idea that music is a greater good, it's a universal language that should be globally available -- that's the message he has carried around the world," said Lisa Prager, a partner at the law firm Schulte, Roth and Zabel LLP in New York and Washington.
"At a time when the president is trying very hard to make some kind of an arrangement with Iran, I think this kind of cultural exchange might be something the administration would be sympathetic to," said Prager, a former export-control official at the U.S. Department of Commerce.
While one might not expect a piano concert to require a license from the U.S. Office of Foreign Assets Control, the U.S. sanctions on Iran are so wide-ranging that they affect almost all commerce between the two countries.
A Treasury Department official, speaking on the condition of anonymity, said that an American artist would need to apply for U.S. licenses to perform in Iran, but noted regulations that stipulate a favorable licensing policy for cultural exchanges.
Sports Exchanges
The U.S. doesn't comment on individual applications for visas or licenses from the Office of Foreign Assets Control, and sometimes the decisions seem arbitrary.
This year, Adel Borghei, an internationally ranked Iranian tennis referee who's worked at Wimbledon and whose application was supported by the U.S. Open Tennis Championships, was denied a visa by two U.S. consulates -- even though he'd been granted a Treasury license to work at last year's U.S. Open, according to Sports Illustrated. Borghei's case prompted the Treasury last year to issue a general license permitting sports exchanges with Iran.
This year, a Treasury Department review found that pop power couple Beyonce and Jay Z's personal trip to Cuba -- which is generally off-limits to U.S. tourists -- didn't violate sanctions because they'd received Treasury licenses before they went.
Yanni's manager Bob Murray said the musician known for his orchestral pop style has a huge and adoring Iranian fan base estimated at 400,000, one of his largest outside the U.S.
Iranian Fans
Iranian fans with means have traveled overseas to see him play live. At concerts in neighboring Armenia, a huge group of Iranians serenaded the musician after his show, Murray said. At performances in Los Angeles, Southern California's large Iranian-American community is always well-represented, he said.
On the Yanni Iran Fan Club website, created and maintained by fans, there's even video of parties held by fans last month to celebrate the artist's 60th birthday.
Murray said he was first contacted about five years ago by promoters interested in bringing Yanni to Iran, but nothing materialized. This year, a new promoter in Iran seems to have made inroads with the government, and Yanni has received handwritten letters purporting to be positive communications from the Culture Ministry and the office of Supreme Leader Ayatollah Ali Khamenei, though Murray said he can't vouch for their authenticity.
"We heard there was an Iranian government spokesman talking on TV about Yanni coming, and press reports that I was in Iran," Murray said with a laugh, speaking from his office in Sherman Oaks, California. "Well I've never been to Iran, and a deal isn't even done yet."
Wide Net
Erich Ferrari, a sanctions lawyer in Washington who advises companies seeking to do business with Iran, said the U.S. sanctions cast a very wide net, and cultural, educational and sporting exchanges may get caught in the middle.
"When they sat down and wrote the regulations, I don't think they said, 'Let's make sure Yanni doesn't perform in Iran,'" said Ferrari, speaking by phone from Dubai. When anyone applies for a license or exemption from sanctions, "the government asks itself: Are we harming the integrity of the sanctions program by authorizing too much? And they'll weigh that against if there's a foreign policy objective that would be furthered by allowing it."
Japan's Kitaro
Even if the U.S. agrees, the Iranian government will have to give the final go-ahead. Japanese New-Age musician Kitaro, whose music has been compared to Yanni's, was approved to play in Tehran two months ago. The Fars News Agency quoted Culture Ministry music department director Piruz Arjomand as saying, "We are keen to see such bands play music in our country. The recent performance by Kitaro showed that we have good audience."
Iranian media have reported that Jean-Michel Jarre, a French electronic New-Age musician of 1970s fame, will also play in Iran, though no date has been set. Chris de Burgh, the British-Irish singer best known for "Lady in Red," was supposed to be the first Westerner to play a concert in Iran since 1979 a few years ago, but the event was canceled.
The reports of a possible Yanni visit have fed a narrative of an opening by Iran's Culture Ministry, but some say they're skeptical. Speaking on condition that her name not be used, a 30-year-old Tehran woman reached by phone said she fears that Yanni may become the latest in a line of famous musicians whose plans were vetoed by conservatives.
Murray hopes that won't happen this time. "Yanni's never political, his agenda is that we're all one people and music is a way to bring people together," the manager said. "If he plays a sad song, people in Brazil react the same way as people in China and in America. It's about music and sharing what's in someone's soul."
Before it's here, it's on the Bloomberg Terminal.
LEARN MORE