Should Parents Band Together to End the Standardized Test?
Anya Kamenetz's new book, The Test, encourages setting goals to promote kids' self-motivation
By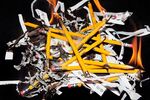 Lulu, 26 months old and wearing a tutu, arrives for her three-hour class at Brooklyn's FasTracKids, which claims to be part of the fastest-growing education franchise in the world. She and the other children gather around a big, interactive electronic whiteboard. They try counting work sheets. They practice their handwriting. Parents wait outside the classroom, watching the kids on a closed-circuit monitor. The teachers don't change diapers or give hugs. But Lulu is happy and can identify the number 3, which makes her mother unreasonably proud.
Her mother is education writer Anya Kamenetz, who details this experience in The Test: Why Our Schools Are Obsessed With Standardized Testing—But You Don't Have to Be. "I have to admit that if you give my daughter a test—any test—I want her to score off the charts," she writes in the introduction of her book, which is basically a guide to helping your kids freak out less by freaking out less as a parent. She says you should practice mindfulness and set goals to encourage self-motivation in kids. And start now: This spring, millions of students will be taking new, harder state exams aligned to the Common Core standards for reading, writing, and math that have been adopted around the country.
Standardized tests used to be a tedious stop on the route to college. Now states use them to evaluate teachers, compare schools, and sometimes promote children to the next grade. Some teachers are spending so much time prepping students for all these tests that the classroom has become boring, Kamenetz says, like many writers before her. Measuring students' progress is important, and holding teachers at least partly accountable for it is reasonable, but Kamenetz says standardized tests are not the way to do either job.
The research against these tests is fairly damning. "MIT neuroscientists found that improving the math scores of a group of eighth grade students in Boston had little influence on their … ability to apply reasoning," the author writes. Most standardized tests aren't objective, don't measure a student's ability to think, and don't reliably predict how well a kid will do in the workplace. So what's good about them? They're relatively cheap to create, easy to administer, and they yield data.
For many parents, it's beginning to feel as if a version of this book comes out every year. Earlier ones, such as Paul Tough's How Children Succeed or Amy Chua's Battle Hymn of the Tiger Mother, made the case for teaching resiliency and grit. Kamenetz's book takes a more defensive stance. She says parents have to protect their kids from the stresses imposed by the system—or actively change it.
She goes on to suggest a few solutions for blowing up the bubble sheet. "In order to design a better system of tests, we have to go back to the beginning and ask: What do our kids need to be happy?" she begins. Uh-oh. From there, she offers four alternatives to testing as usual. The first three are already in practice, although sparingly. Team Robot, as she calls it, is made of technologists who say software can help personalize tests. Team Monkey includes psychologists who advocate using surveys to assess motivation and self-control. Team Butterfly comprises educators who want to use performance-based assessments.
And then there's Team Unicorn, which employs game-based assignments and artificial intelligence. They're working on that in Silicon Valley. Not that you should expect this approach anytime soon. As Kamenetz herself writes, the Unicorn "represents a perhaps mythical future." Better sharpen those pencils.
Before it's here, it's on the Bloomberg Terminal.
LEARN MORE