Starboard Buys Staples Stake, Fueling Deal Speculation
James Boxell and Matt Townsend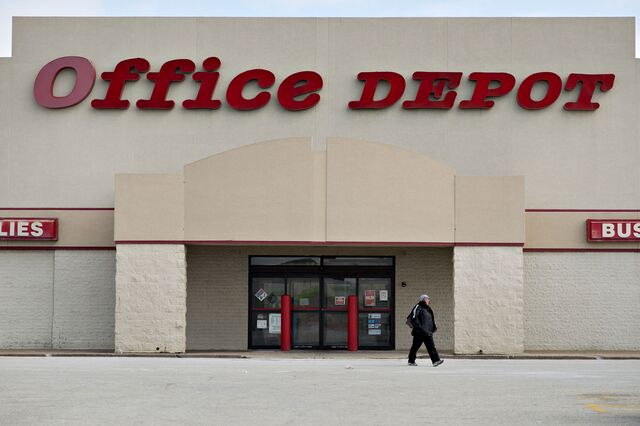 Starboard Value, the activist investor that successfully pushed for the merger of Office Depot Inc. and OfficeMax Inc. last year, is making another run at the office-supply industry.
The investment firm disclosed a 5.1 percent stake in Staples Inc. today and increased its holding in Office Depot to 9.9 percent, a move that could add pressure on the two retailers to merge. The announcement sent shares of both companies surging, with Office Depot climbing as much as 13 percent.
Starboard, a hedge fund led by Jeffrey Smith, has a record of buying stakes in companies and pushing them to combine. It also is campaigning for changes at Yahoo! Inc., including a possible tie-up with rival AOL Inc. Still, an office-supply merger would face challenges. While analysts have promoted the idea of Staples and Office Depot teaming up, such a deal would leave the industry with only one major U.S. chain.
"There are lots of reasons a deal would not pass Federal Trade Commission muster," David Strasser, an analyst at Janney Capital Markets in New York, said in a report today. "But Starboard looks intent on getting both companies to the table. In a market where valuations are stretched, here are two companies with a catalyst, relatively reasonable valuations, and an activist with a track record of success."
Staples shares jumped as much as 10 percent to $16.32 in New York after Starboard announced the investment. Office Depot, based in Boca Raton, Florida, climbed as high as $7.59. Staples stock had been down 6.8 percent this year before today, while Office Depot was up 27 percent.
E-Commerce Competition
Analysts have said that office retailers may need to join forces to compete better with online rivals, such as Amazon.com Inc. In September, Credit Suisse Group AG's Gary Balter said Staples should buy Office Depot. Kirk Saville, a spokesman for Framingham, Massachusetts-based Staples, declined to comment today on Starboard's stake.
Smith, chief executive officer of New York-based Starboard, has pressured Office Depot to improve operations since taking a stake in the company in 2012. The fund had owned 8.6 percent of Office Depot's outstanding shares as of June 30, according to data compiled by Bloomberg.
Starboard also is coming off a successful shake-up at Olive Garden owner Darden Restaurants Inc. In a rare move, Starboard persuaded investors to replace the entire board with its nominees. The investment firm embarked on the board fight after disagreeing with Darden's decision to sell the Red Lobster chain.
Today's move by Starboard was first reported by the Wall Street Journal.
Before it's here, it's on the Bloomberg Terminal.
LEARN MORE